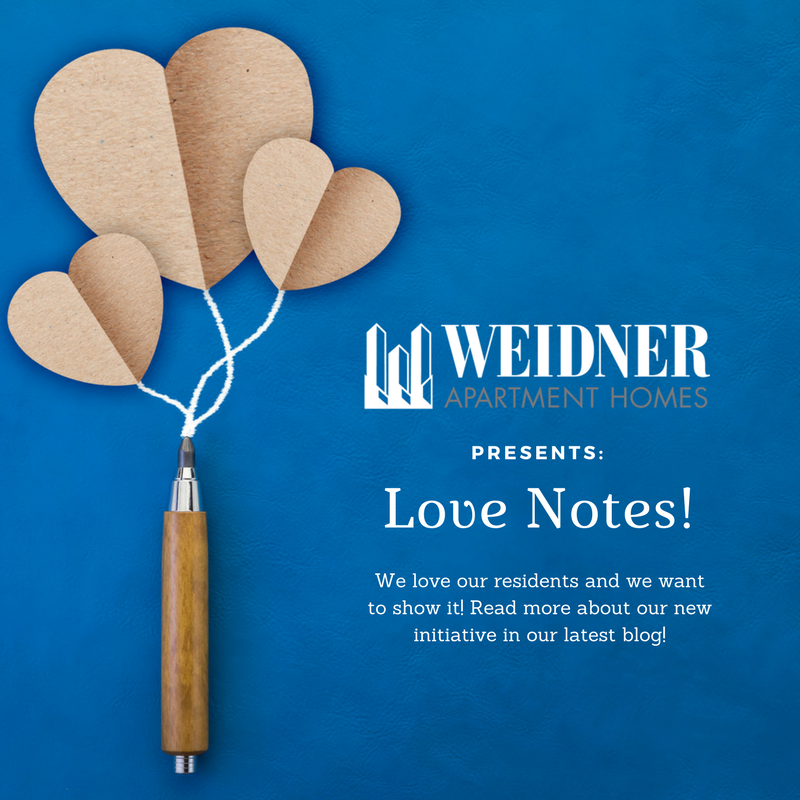 Weidner Embraces the Love with Love Notes![/caption] Inspired by Peter Kageyama's book, "For the Love of Cities: The Love Affair Between People and Their Places and the follow-up, "Love Where You Live: Creating Emotionally Engaging Places," Weidner is embracing the love! Weidner Apartment Homes takes great pride in creating communities our residents' love, so it makes perfect sense that as Valentine's Day approaches, we show our residents our appreciation. That's why we've begun our Love Notes initiative for 2018! Love Notes can vary from positive messaging, to resident events, to something as simple as an added seat by the garden, but they all have one goal in mind: to engage the community so that residents feel a deeper sense of connection and pride in the place they live. Every month we will focus on a different region. Up first are our Arizona Apartments: Mozaic at Steele Park created a gift wrapping station during the holidays. Future Love Notes plans include:
Smores and bonfire nights
4th of July catering event
Resident activities at night
At the Enclave, residents enjoyed homemade lasagna at their resident event in December. The laundry room was also painted with added decorations to make doing laundry a little more inviting! In January, they'll have a breakfast-on-the-go event, hosted by the maintenance team. At the Acclaim, residents enjoy discounted pizza every 2nd Wednesday of the month, a Sunday Omelet Breakfast every 3 months, and a monthly cake in the office for resident birthdays. During the holidays, there was also a gift wrapping station set up. Future Love Notes plans include:
Valentine Sunday Brunch in the office
2nd Thursday in March is "Popcorn Lover's Day," with fresh bags of popcorn for residents!
Tierra Vida residents currently enjoy a Resident Book Library and popcorn and candy offered with DVD rentals. Future plans include:
Lawn games
Pizza and board game parties
At Hawthorne, they show the love to residents by providing coffee in the clubhouse and package delivery, upon request. Future plans include:
Monthly and/or quarterly resident events like game nights or specific holiday celebrations
Papa John's Pizza Night
Keeping the office open late for "Weidner Wednesday"
Monthly calendar of events and reminders
Sonoma Landing also has some big plans in place:
Hosting "2nd Saturdays" for AZ Tasty Eats with various foods offered
"Storytime with Sonoma." Team members (including the Service Team) will be reading books to the children from 10am-11 every Tuesday in January. The community purchased small blankets, pillows, hot cocoa, candy canes & cookies for the kids to enjoy.
Food trucks scheduled for a majority of Thursdays in the 1st quarter
Papa John's pizza nights once per month
A cookie decorating day in February
In March, a photographer is scheduled to take Spring Photos and residents will receive a free 8×10
"March Madness" pool during the NCAA Basketball playoffs with prizes! (TBD)
Natura Villas is building an outdoor cornhole with surrounding benches and landscaping. They also plan on a bike station where residents can check out bikes and enjoy them on the adjacent bike path; and as always, random acts of kindness. Residents of Lofts at Rio Salado currently enjoy checking bikes out for use on the canal/bike path adjacent to the property. Coming up – residents will receive a decorative rock to place in the fountain that represents one of the four elements: Earth, Wind, Fire or Water. A mural and a sculpture will be added to each building. Way to embrace the love, Weidner Arizona apartments! If you are interested in any our Arizona apartments, please reach out to their leasing managers. We'd love to have you as part of our community! Share your community love notes at #LifeatWeidner. What matters to you, matters to us! -The Weidner Team