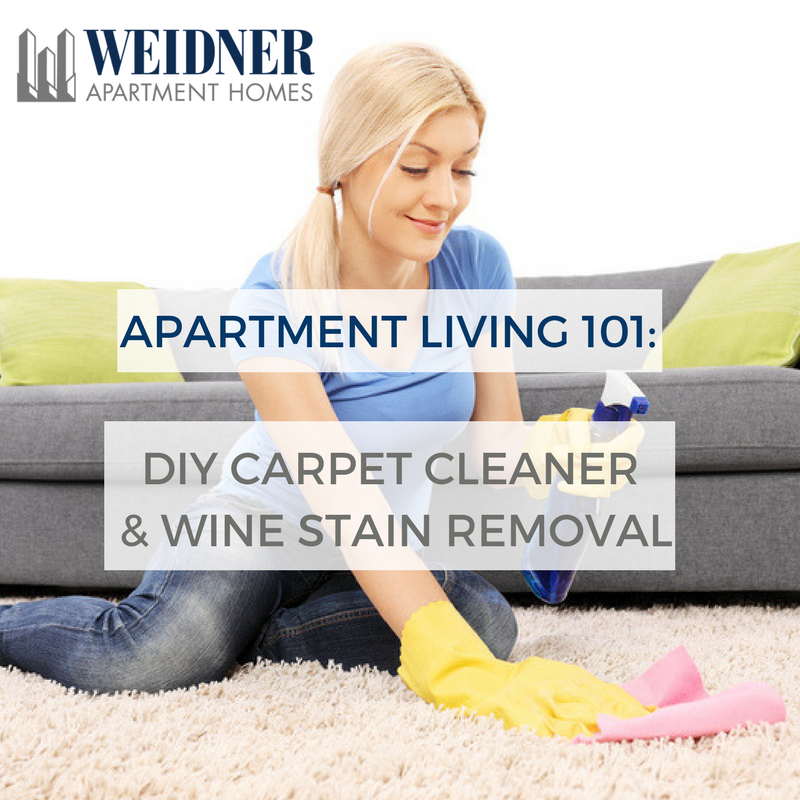 Try these DIY carpet cleaning home hacks![/caption] Welcome back to our Apartment Living 101 Series! In case you missed our last video, we gave you 7 Easy Tips to Keep your Apartment Clean. We know that once the weather is nice and the sun starts to shine the last thing you want to do is spend your time scrubbing every last inch of your apartment. That is why we brought you simple tips to clean everything in your home from your vacuum cleaner to your windows using homemade glass cleaner. Hopefully, you were able to use our tips to get your apartment on its way to the ultimate clean. To keep your spring cleaning momentum rolling, we are bringing you two new videos to help you get your apartment ready for spring. This time we are focusing on those hard to remove carpet stains. It seems like no matter how careful we are to not spill, and take off our shoes, and wipe our furry friends paws after a nice stroll, there are always those little mishaps on our carpets. In our first video, we show you how to remove carpet stains using cleaner that you make yourself, a hand towel and an iron. Let's get started! https://www.youtube.com/watch?v=2p1YL50QzwA Fill your spray bottle with 2 parts water, to 1 part distilled white vinegar. Give the bottle a nice shake. Spray the stain and grab a damp towel, to place over it. Turn on your iron to the steam setting and run it over the towel for about a minute. Be sure to constantly move the iron, so that you won't accidentally burn a hole through the towel. If you have a stubborn stain, repeat until the stain is gone. Be sure to constantly check to make sure your towel is damp. Next up, wine spills! https://www.youtube.com/watch?v=Rh46SxzWdp4 If you're reading this, that means you've probably just spilled your wine and you are frantically searching for how to clean it up, we are here to help you out. Here's a quick list of the things you'll need:
Towels or paper towels
Cold water
Baking soda
Alright, let's get to it! First, you'll want to dab as much of the wine as possible with a towel. Be sure to dab the wine vs scrubbing, since that can cause the stain to spread, and be sure to use a clean side of the towel so you don't spread the stain. If you can, use paper towels so you'll be less likely to contaminate the carpet. Now, grab a cup of cold water, and pour the water directly on the stain. Continue to dab and repeat until the stain comes out. Next, make a baking soda paste by mixing 3 parts baking soda to 1-part water. Apply the paste to the stain and let it dry. Once it's dry, vacuum it up, and you'll be as good as new! And YOU thought you'd be in deep trouble! Want more tips for apartment living? Visit the Weidner Apartment Homes YouTube channel for more tips on everything you need from basic do-it-yourself maintenance to soundproofing your apartment.