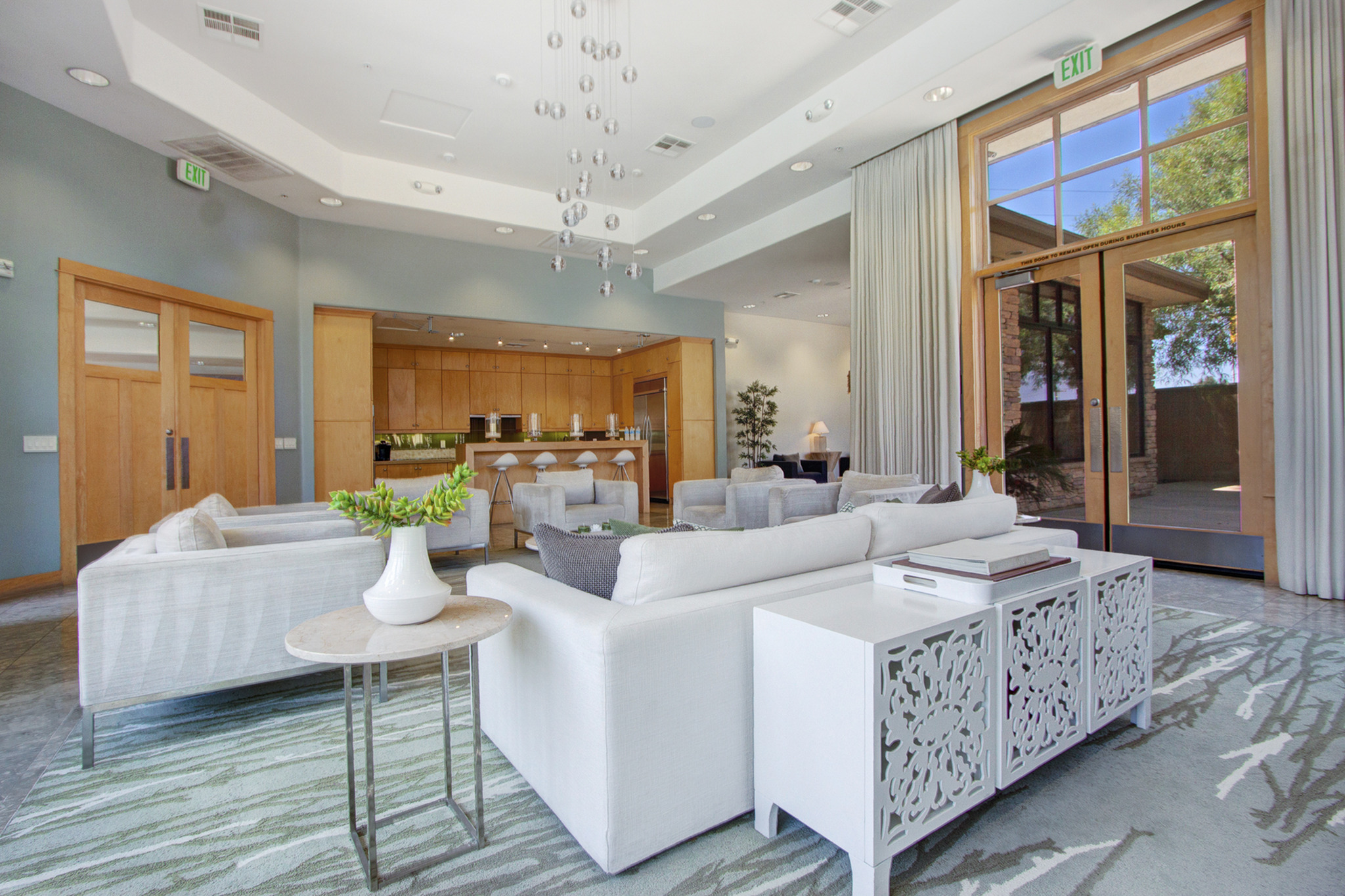 There are many reasons millennials like you are postponing buying a house – from student loan debt and tougher credit requirements to the lack of a down payment or the lack of desire to own a home and you're not alone. According to a recent Washington Post article, only 4% of millennials say they'll buy a home in next year while at least 30% plan to wait for at least five years or longer. It's just not as important as it has been to previous generations.
The good news is, oftentimes, renting a high-end apartment can provide you with even more perks and amenities than you'd get if you bought a house, including a Roman-style bathtub, sparkling swimming pool, fully-equipped fitness center, and a reservable space for private events.
Other advantages of joining an apartment community are increased opportunities for socializing and living in an ideal location that enables easy commuting and access to great dining, shopping and entertainment options.
What to look for in a high-end apartment
Upscale apartments tend to be architecturally interesting, pleasing to the eye and they usually boast all the sweet extras that elevate apartment living. Here are some of the important things to check out when touring your future residence:
Unique and upscale appearance

- From a soothing, elegant color palate to high-end amenities and beautifully landscaped surroundings, you'll want to be able to peacefully soak up the sun in a place you'll be proud to call home.

Modern kitchen –

Forget low-end materials and cheap surfaces. A high-end apartment will feature granite countertops, stainless steel appliances, a may offer a nice breakfast bar and sizable pantry with adjustable shelves.

Convenient amenities –

Each apartment and complex will have its own unique offerings, and it's up to you to decide what

amenities

you can and can't live with.

Indoors:

You'll want to choose from

luxury features

like custom cabinetry, energy-efficient appliances, generously-sized bathtubs, personal balconies, cooling ceiling fans, and a full-size in-unit washer/dryer for your convenience.

Outdoors:

Once you step outside your front door, ask yourself what's important to have in your surrounding community. Ideally, you'll have access resort-style community amenities like a state-of-the-art fitness center, a luxurious swimming pool, a loaded coffee station, and an outdoor grill/fire pit area reserved for residents. Also, be sure to ask if they offer the option to reserve the clubhouse for private events.

Location –

Sometimes the beauty of an apartment can be further enhanced by its geographical location. Ask yourself "How long will it take to run errands and get to work?" In Riverside, it's critical to be close to the 60 Freeway for a straight shot to LA, as well as to the 15. For the best location, look for an

apartment in the epicenter

of Jurupa Valley, Ranch Cucamonga, Ontario, Riverside, Fontana and Mira Loma.

24-hour on-site maintenance –

High-end apartments will have maintenance technicians on-site who place a high priority on resolving issues quickly and efficiently, even if they occur in the middle of the night.

Safety and security –

Insist on living in a gated community, especially one that offers a courtesy security patrol to keep residents and the apartment community safe.

Variety of floor plans –

Having a variety of choices allows you to pick the very best layout for your belongings and your lifestyle. You'll want to be able to choose from 1, 2 & 3-bedroom

floor plans

for singles, couples, or families.

Online portal for payments and communication –

To save time and maximize efficiency, choose an apartment community that offers you the option to pay your rent through an online portal, where you can also submit maintenance requests and securely message the office with any concerns or comments.

Parking options –

The beauty of high-end apartment living is that complexes generally reserve a space or two for their tenants in an on-site lot, or for a small fee you can get covered carport parking or even an attached garage. No one has time to search for street parking. Having a designated spot just for you is a huge benefit.

Thriving community –

The crowning perk of living in any apartment complex is when you're surrounded by fun people and events. For example, Breeanna Lobo, community director at

Vesada Apartment Homes

in Riverside, makes it a priority to host regular resident events to encourage friendly fun for the people in her community. "Our residents love the events we host like our annual 'Spooktacular Halloween party' with food, drinks, costume contests, raffle prizes, and tons of candy and goodie bags for the kids and grown-ups" said Lobo. This summer, she'll throw a "Movie Night by the Pool" party – a family-friendly event featuring a fun film and including popcorn, snow cones, tacos and cold drinks. "It's things like these events that really bring a community together, and it's the best part of my job," she said.
No matter what apartment you choose, consider all the factors mentioned above to help make sure you're happy in your new home.
Are you ready to live in a high-end apartment and join a warm and active community? Contact Vesada Apartment Homes in Riverside, CA today to schedule your tour and find your wonderful home sweet home.