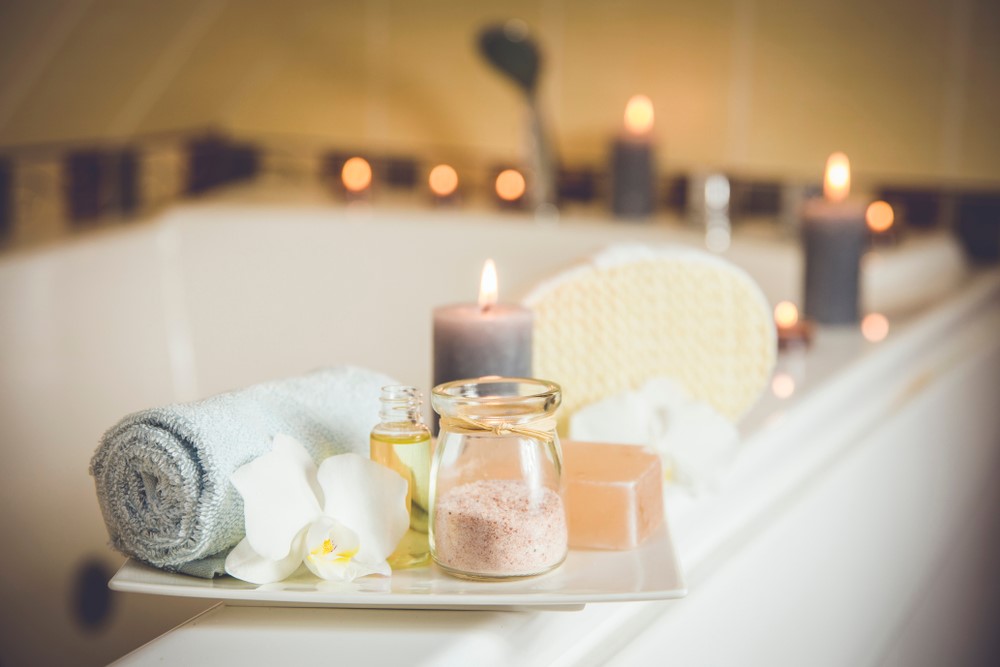 Do you miss the spa? We're right there with you. Everyone needs a little relaxation, especially in these uncertain times. That's why it's time to bring the spa experience home to you.
Here's how to transform your bathroom into an elegant home spa that will appeal to all five senses.
Sight
Your sense of sight plays a significant role in your ability to relax. Before you immerse yourself in the calming spa experience, consider taking the time to give your bathroom a quick go-over to create a fresh, clean and serene atmosphere for yourself. Clutter can also cause anxiety, so think about removing a few items from the countertops and stashing them out of sight, even if just temporarily. Once you're liking your surroundings, it's time to adjust the lighting and make sure the rest of your senses are catered to in your home spa.

Smell
Studies show that our brain responds to fragrances by releasing endorphins that can result in a calm and relaxed feeling. Nothing says spa day quite like the relaxing aroma of lavender and jasmine. You can incorporate your favorite soothing scents into your spa routine by using scented bubble bath, soap and lotion. To further your aromatherapy experience, you have a variety of options including scented oils, diffusers, candles, incense and more.

Touch
We can never underestimate the important of how things feel while creating the perfect home spa. Getting the water temperature just right is just the beginning. You can tickle your skin with fast-dissolving bath bombs, detoxify with bath salt scrubs, or give ourselves a deep-skin treatment with a skin facial or body mask. After the bath, wrap yourself in your plushest towel or robe, and replenish your skin with an aromatic moisturizer that leaves you feeling refreshed.
Taste
You've seen it in magazines, so why not treat yourself to an elegant snack during your luxurious home-spa experience? According to some ancient forms of medicine, enjoying the taste of our food is a critical component to maintaining a healthy mind, body and spirit. Prepare a tray fit for a queen with your favorite treats like cheese and fruit, a sweet dessert and, of course, the beverage of your choice.
Sound
Mitigate outside noise with the power of music. To enhance your listening experience, use a Bluetooth speaker and play some of your favorite tunes or meditative sounds such as rainfall or waves lapping the shore. The rest of the world will surely melt away once the soothing sounds start to play.

Isn't it time you set aside some time to focus on yourself and your well-being? Treat yourself to a wonderful and relaxing spa day at home. Enjoy! You deserve it.
What are your favorite ways to create a relaxing spa experience in your apartment home? Let us know below!