Are you looking for big-city living in the friendly midwest? Well, look no further than Minneapolis, MN! In "the land of 10,000 lakes," this city provides the perfect combination of down-to-earth people, adventures, and high-class dining and entertainment. As the most populated city in the state, Minneapolis has plenty to explore regarding food, fun, sports, shows, shopping, and site-seeing. If you're in Minneapolis, start exploring the city by checking out these ten places and events.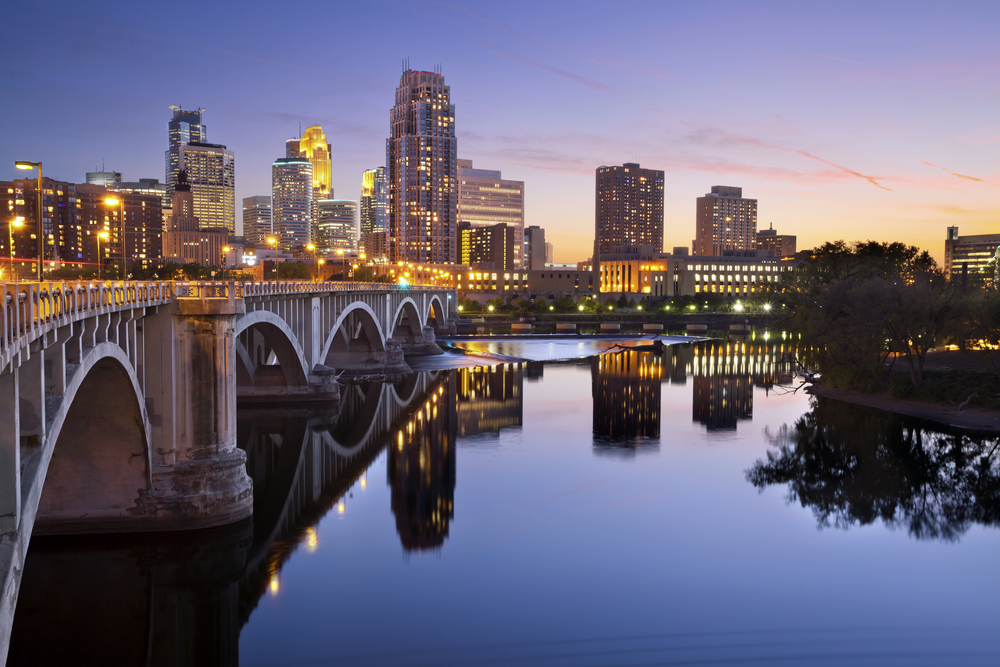 1. Minneapolis Food Tour: If you're an adventurous foodie, then the Minneapolis Food Tour is the event for you! Sink your teeth into a ham and pear crisp sandwich, heirloom cornbread, and a whole lot more delectable flavors on this three-hour tour that runs every Saturday afternoon. Explore local tastes and take notes of which eateries to visit next!
2. Guthrie Theater: Whether you have a deep appreciation for the arts or you're looking for some world-class entertainment, you'll find it at Guthrie Theater. Here you'll find a variety of shows, from a traditional Shakespeare play to contemporary performances. Before or after your show, be sure to enjoy the fantastic riverfront views from a 175-foot cantilever bridge.
3. Mill City Museum: One of the many specialty museums in Minneapolis, Mill City Museum is especially unique as its housed in a large flour mill. During your visit, dig into the history of the Mississippi riverfront, the birthplace of Minneapolis. Other specialty museums in the area explore the city's rich history of clay, firefighters, railroads, and textiles.
4. Target Field: Home of the Minnesota Twins, Target Field is a multi-use stadium where you can catch a baseball, football, or soccer game throughout the year. The field also holds outdoor concerts and other special events. Adjacent to the Target Field is Target Center, which is another popular venue for city activities. You'll never run out of entertainment in Minneapolis!
5. Minnehaha Park: As one of the city's oldest parks, Minnehaha Park is the home of a 53-foot waterfall and offers several of the locals' favorite spots for hiking, biking, frisbee golf, and canoeing. The park recently added a new wading pool and is the perfect place for kids to cool off in the summer. When the weather turns cold, city parks provide great spots for cross country skiing, ice skating, and sledding.
6. Mall of America: The world-famous Mall of America sits in a nearby suburb and epitomizes shopping in Minneapolis. As the largest shopping and entertainment center in the U.S., you'll have your choice of shopping from specialty boutiques to major retailers. It's almost guaranteed your shopping needs and sprees will be satisfied at The Mall of America, so if you're on vacation, be sure to pack a large suitcase!
7. Twin Cities Brewery Tour: If you love to experience Midwest breweries, be sure to sign up for a Twin Cities Brewery Tour. The event offers both public and private tours so you can customize your experience. During the tour, learn the art of beer-making and enjoy tasting some unique creations and delicious brews.
8. University of Minnesota: With the home of the Gopher's nearby, you'll have the opportunity to explore the campus' beautiful architecture as well as the museum and libraries. Those interested in higher education can find a plethora of programs on campus.
9. Minneapolis Skyway System: Explore the famous Minneapolis Skyway System, which is nearly 10 miles of pathways in a contiguous system of enclosed, second-level bridges that connect 80 city blocks. Find offices, restaurants, hotels, shopping, banks, professional services, and grocery stores along the skyway. It's a great way to explore the city in the winter to avoid the brisk Midwest weather.
10. Minneapolis Sculpture Garden: If you're looking for a great combination of art and garden, check out the Minneapolis Sculpture Garden at the Walker Art Center. Visitors can explore 11 acres chock-full of 40 iconic sculptures to admire and enjoy. After you take in the garden, be sure to visit the other incredible exhibits at the Walker Art Center.
Are you moving to Minneapolis or one of the nearby neighborhoods? Come and visit Daymark Uptown Apartment Homes. Conveniently located just 15 minutes from downtown, our community offers luxurious living in the heart of the Uptown neighborhood. Contact our friendly staff to learn more about our availability and to schedule a tour today. We can't wait to welcome you home to Minneapolis, MN!