Blog Home
5 Secrets You Shouldn t Keep From Your Landlord
[caption id="attachment_1214" align="aligncenter" width="800"]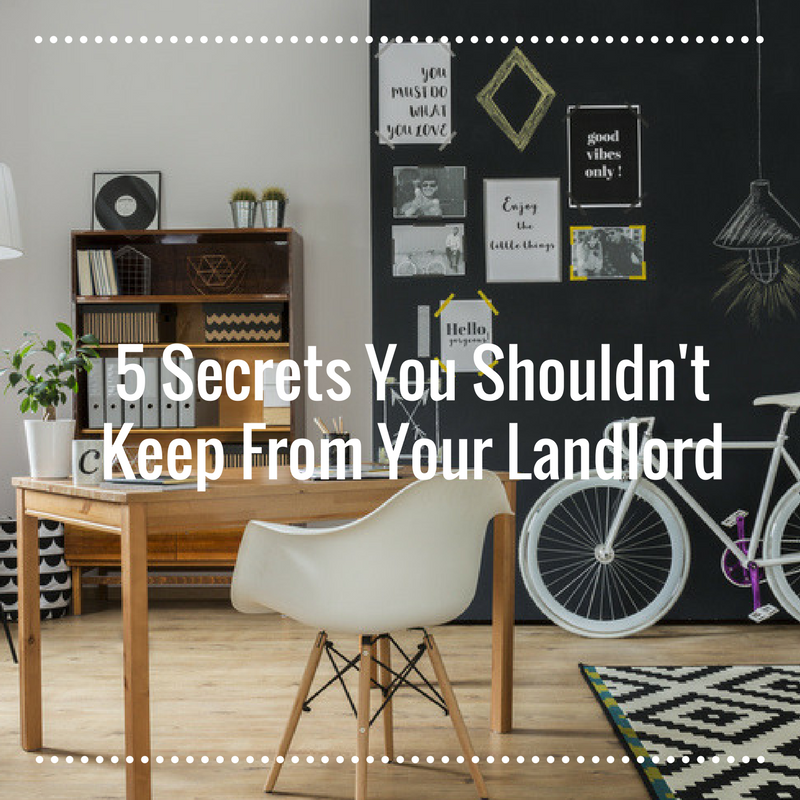 Need an apartment repair? We're here to help![/caption] Let's face it – everyone has a few secrets. But when it comes to adhering to your lease agreement, it's in your best interests to be upfront with your landlord or leasing manager. Lease agreements are designed to protect you, your neighbors, the property and its investors. When you're renting from a management company like Weidner Apartment Homes, who specializes in keeping residents happy and has done so for more than 25 years, chances are – they have seen your secret before:
"I'm just going to sneak my furry friend into my apartment home. No one will know."
Ah, the furry friends. They can obliterate reasoning and common sense with just one look. Are we sure there's not a human in there? The jury is still out on that one, however, for our pet-friendly apartments, there are pet policies in place to – you guessed it - protect you, your neighbors, the property and its investors. Detailed insurance policies are in place at each property that management companies are legally obliged to honor and therefore, must pass down to the resident within their lease agreement. It's normal to think that this ball of fur with four legs who "wouldn't hurt a fly" is a non-issue, but please understand that the pet policy is there for your protection and check with your leasing manager to see if your pet fits into the existing agreement. Besides, you and your pet are in need of a living environment where you can relax and keeping secrets is stressful!
"I'm going to save so much money by having a roommate." Or, "It's only for a few weeks/months/years."
The thing about communities is that they are made up of individuals who rely on one another for the common good of that community. In the case of apartment communities, neighbors know their neighbors and extra roommates will eventually be discovered. Weidner has a roommate policy which again, is designed to protect all those residents within the community. While saving money or "helping someone out for a few weeks" are both understandable and even honorable goals, it can put the community at risk. Check with your leasing manager to see what options are available to you.
Neighbor Issues. "I'll just handle this loud neighbor myself. I don't want to cause problems with the property manager."
Landlords and management companies can't remedy an issue if they don't know about it. So, do you want to know how to deal with loud neighbors? Don't! If your neighbor is violating a noise ordinance or behaving in a way to purposefully cause fear and/or intimidation, let the property manager know immediately. While it's important to acknowledge that people have different styles and tastes when co-existing in an apartment community, residents should never feel that their happiness or safety is at stake because of the unfortunate behavior of one or a few neighbors. Taking the issue on yourself could prove to be far more stressful than the original complaint – so let the landlord or leasing office take care of it for you in the most diplomatic way possible.
"I have mold or water damage. I'd better keep quiet, or they'll kick me out."
When it comes to apartment repair, never hesitate to submit a maintenance request through our resident portal! Whether you think the mold or water damage in your apartment home is your fault or not, you should report it to your landlord or leasing manager because if you don't – it will get worse with time. Something as simple as a small leak in a bathtub or faucet could grow into a huge issue in the ceiling of the apartment below. Unreported maintenance issues can cost far more than the original issue in both costs and time. Property managers and owners anticipate that from time to time, there will be maintenance issues, which is why they have maintenance professionals on hand. Willful damage to property and natural wear and tear on a building are two separate things, but either way, if the problem grows, it will eventually be discovered. In the case of apartment mold, for instance, its natural inclination is to spread with ruthless speed. The more it spreads, the more costly and time-consuming it becomes. Property managers and owners want to protect their investment – and it's in their best interests to keep you, the resident, happy.
"I have to move out, but I'm not going to tell my landlord until move-out day. Moving is already stressful enough."
Move-ins and move-outs are commonplace in property management. They are budgeted for and anticipated. Also, there's a long list of things that must take place to prepare the apartment home to be inhabited by the next resident. Often, residents don't want to deal with the extra stress of giving exact dates of a move-out, or they're worried that there's damage in the apartment which they could be charged for. Regardless of what the issue is, the leasing manager is there to help and is specifically trained to assist in transitions like these. Moving is stressful – that's why it makes more sense to let the experts assist you by giving them due notice as stated in the rental agreement. Keeping secrets from your landlord and/or leasing manager is stressful. We encourage you to talk to us. We're here to help! What matters to you, matters to us! -The Weidner Team