Blog Home
9 Great Ways to Experience Alaskan Culture in Anchorage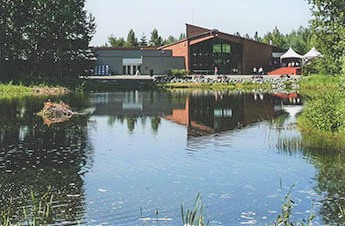 Anchorage is home to a variety of museums as well as cultural and heritage centers that have beautifully captured Alaska's varied and fascinating history. If you're looking to gain a better understanding of Alaskan culture and you enjoy history, here are 9 ways to enrich your historical and cultural knowledge in Anchorage:

Anchorage Museum – Housed in a modern building in the heart of Anchorage, this art, history, ethnography, ecology and science museum is dedicated to studying and exploring the land, peoples, art and history of Alaska. Alaska's largest museum, it houses with first-rate exhibits that detail everything from native cultures and local flora and fauna, to Alaskan art and history. Kids will love the interactive exhibits and don't miss the museum's crown jewel, the Smithsonian Arctic Studies Center featuring hundreds of objects from Alaskan Native cultures, videos about modern-day Native life, and more.
Crow Creek Historic Gold Mine – For a chance to escape town and experience what it was like during Alaska's famous Gold Rush, visit Crow Creek Mine, established in 1896. This mine earned the reputation as one of Alaska's most renowned hydraulic gold mining operation in the state. Examine the historic mining camp to get a sense of the demanding work and challenges that came with working in such an isolated location. See a unique blend of historical buildings, antiques, rare mining equipment, gardens, mountain scenery, and hiking trails including the Historic Iditarod Trail. And, since there's still gold in "them thar hills," you can also explore and prospect on the mines' original claims.
Alaska Aviation Museum – If you're interested in learning about and celebrating Alaska's rich aviation history, visit this museum, located on the world's largest seaplane base, Lake Hood, at Anchorage International Airport. The Alaska Aviation Museum offers huge exhibits and vintage aircraft, as well as the chance to watch volunteers restoring vintage aircraft in the restoration hangar, observe seaplanes take off and land with a live radio-tower feed from the control tower, and experience flight simulators including full-immersion, Oculus Rift virtual reality.
Oscar Anderson House Museum – This historic home has earned the title of "Distinctive Destination" from the National Trust for Historic Preservation. Said to be the first wood‐framed home in Anchorage, it provides locals and visitors with a glimpse into the everyday life of a family that lived in Anchorage in its early days. The museum has been recognized for its architectural significance and for Oscar Anderson's role in the development of the city of Anchorage when it was in its infancy. The house features many displays like the interior décor featuring period wallpaper, paint and antiques. The Alaska Association for Historic Preservation says of the museum, "You'll see examples of how the past answers questions of who we are in the present, and the importance of history to our future."
Alaska Museum of Science and Nature – If want to gain a better understanding and appreciation of the natural world, the sciences, and human beings, this is the place for you. Here's your chance to explore dinosaurs, the birds and marine life of Alaska, the Alaskan Ice Age, bones of ancient animals, and many rocks and minerals through a variety of interesting exhibits and programs.
Alaska Native Heritage Museum – This cultural center promotes observance of Alaska Native culture and traditions, featuring permanent collections and educational programs. In the summer, learn an Alaska Native dance, participate in a Native game, and observe the creation of traditional art in real time. You can also tour full-size replicas of Alaska Native buildings from every region of the state. Year-round you can attend community-based events like the Circumpolar World Music Celebration, Iditarod Day, concerts, and celebrations of Alaska Native art.
The Roundhouse at Alyeska Museum – Alaska's only mountaintop museum, accessible only by aerial tram or ski lift, this distinctive octagonal Roundhouse sits over 2,000 feet above sea level. The Roundhouse symbolizes the importance of outdoor recreation to the Girdwood Valley's legacy and the building earned a place on the National Historic Register in recognition of its significance to the development of skiing and other outdoor activities in Alaska.
Alaska Jewish Museum – This museum features exhibits, archives, a research library and gathering place to tell the stories of Alaska's Jewish residents and their contributions to the development of Alaska's industries, government and culture. Its vision is to continue to tell the story of Alaska's Jews, and create dialogue about the many cultures that make their homes in the Frozen North and all they have in common.
Alaska Veterans Museum – This is a great place to learn about and remember Alaska's military history and get to know more about the veterans who have made great sacrifices to help protect our country. While there, you'll experience personal stories see artifacts, and learn about the history of Alaska's veterans. This unique collection features artifacts such as patriotic can labels, equipment, weaponry, and items from everyday life during WWII, the Cold War and more.

If you're a culture fan who's moving to or living in Alaska and you need a spacious affordable apartment in Anchorage in a prime location close to all the fun things to do here, contact us today at Susitna Ridge Apartment Homes. We're here to schedule your personal tour at your convenience and help you discover your amazing new home.