Blog Home
Back-to-School Lunch Ideas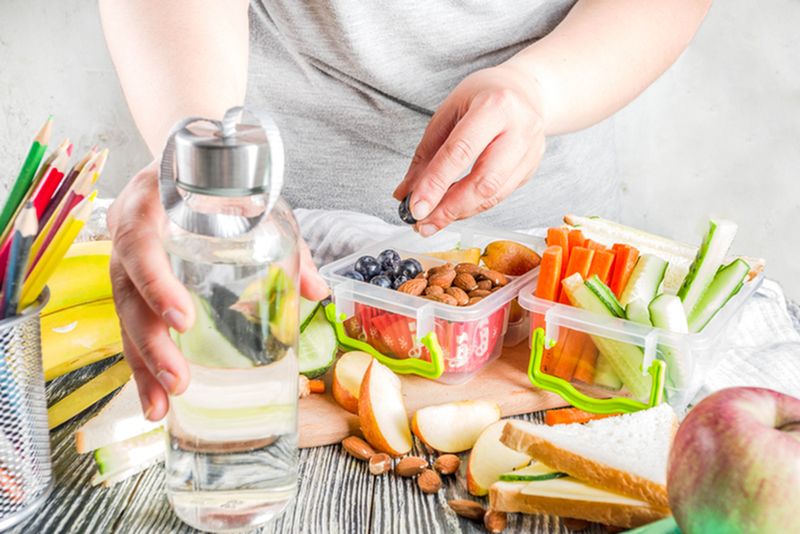 School's in session and this means every day you want your child to go to class motivated, looking good, and bringing the best lunch and snacks possible to keep the energy going strong! It's crucial to eat healthfully, and studies show that the type of food we eat can influence our moods and impact our health. This rule also applies to our little ones, so let's give our children a healthy school lunch and snacks so they can stay focused in class and perform at their highest levels!
Here are some healthy school lunch ideas:
An upgrade to the classic sandwich and apple.
We all know a good sandwich will be delicious and satisfying! To add visual impact, us a large cookie cutter to cut the bread into shapes like stars and dinosaurs. Buy washed, ready-to-eat lettuce mixes to prevent the sandwich from getting soggy. For the apple, kids love to dip, so cut it into slices and consider including a little side of caramel sauce or peanut butter to keep things fun.
Potato breakfast burrito and beans.
Prepare a tasty breakfast burrito by scrambling some eggs with ham and adding a serving of rib-sticking potatoes. Keep it warm by first wrapping the burrito in a paper towel, then in foil. To add a some fiber to this healthy school lunch, add a side of beans in a small sealed container (and remember the spoon). To help keep it warm, try sending it to school in an insulated lunch bag.
Fruit salad and hard-boiled eggs.
This is a healthy option that provides carbs, protein and fiber. Make it easy for your little one by pre-peeling the hard-boiled eggs and slicing them in half. Add a side of diced fruit like melon and pineapple for a sweet treat. To change things up, you can alternate the fruit with veggie sticks such as zucchini and carrots. Add a side of ranch dressing or spice things up with some hummus!
It's also wise to make sure your children take some snacks with them too, including ones you can buy in bulk like almonds, granola nuggets and sunflower seeds to save money. Pack them separately in the lunchbox in a plastic baggie or small container, so they're easy to grab during breaks. Also, to encourage your child to drink plenty of fluids by always including a container of water with lunch every day.
For more information on children's nutrition, take a look at this
kids' food pyramid article
with information backed by the Food and Drug Administration.

Do you have sany popular lunch ideas your kiddos love? Share them with us at #LifeatWeidner