Blog Home
Big Ideas for Small Outdoor Spaces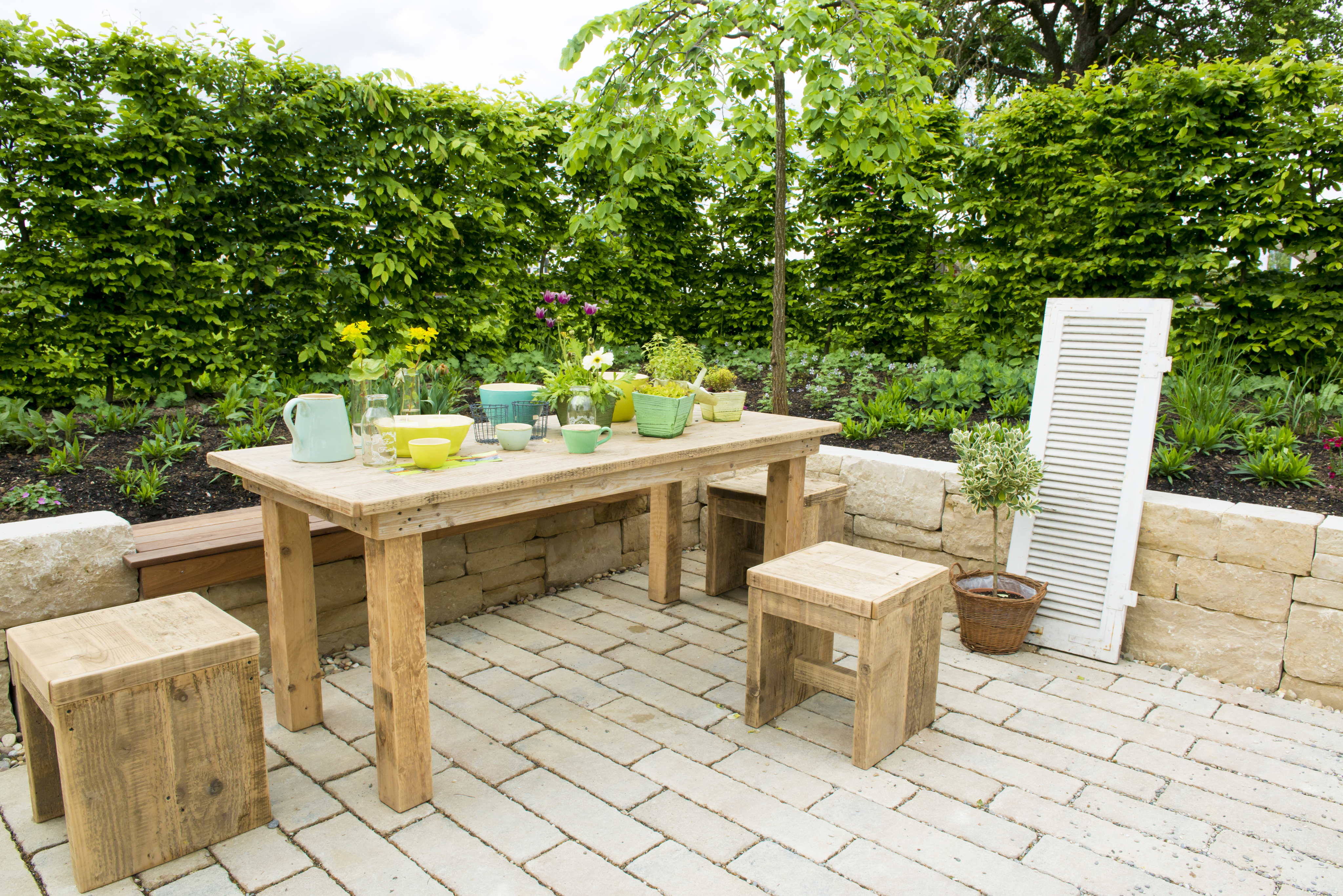 It's that time of year to enjoy the great big outdoors – even if your patio space is on the small side. Here are some tips for getting the most out of small outdoor spaces this summer and beyond:
Assess your space and make a wishlist! First, how much space do you have to work with? Can you fit a small bistro table or a small used coffee table and a little bench? Get the measuring tape out, eye your space, and make your wishlist. What kind of theme are you going for? Whether it's an eclectic beach look, Zen garden, or Southern-style porch, once you have a vision for your space, you can make that list.
The basics of a great outdoor space are seating, a table for refreshments and reading materials, splashes of color, hanging or potted plants and flowers, and a fun old mirror to create the illusion of space. Depending on your chosen theme, you'll have plenty to work with.
Gather your larger furniture pieces first and work around them. You don't have to spend a fortune, either. Often the best pieces for the outdoors come from consignment stores or garage sales. Paint them the color you want, recover with fun fabrics, or simply throw some toss pillows around and enjoy your new, old outdoor furniture. Don't forget the fun seating items, too, like porch swings and old wicker rockers!
Leave some space! As you arrange your pieces, try to leave some space where you can roll out your yoga mat if you so desire, but also because having blank spaces creates an open, airy feel.
Invest in some fun outdoor throw rugs. Throw rugs are the quickest way to cozy up an outdoor space and they come in a variety of colors, shapes, and sizes. Go bold with color or keep it neutral – you choice!
Find an old mirror and secure safely on the wall or prop it up behind a plant. This creates the illusion of plenty of space and reflects the light. Make sure it doesn't face the sun directly. You want it to reflect the light and create ambiance, not blind you while you're trying to enjoy your morning coffee.
Hang some festive lights. Consider your chosen theme and find lights that compliment your porch or patio. Wayfair, Pottery Barn, Pier One, Walmart, and Amazon all have plenty of selections for outdoor lighting and string lighting. Check your local hardware store, too!
Become a bird watcher. Attract some fine, feathered friends with decorative bird feeders and mini-birdhouses. Consider using pre-shelled seeds for less clean-up.
Create a lush landscape all your own. Visit your local nursery and invest in some shade plants and colorful flowers. Depending on how much sun your space gets, you could even grow a little vegetable garden, tomatoes, or invest in a mini fruit tree!



Make sure any décor or patio features are ok with your property manager. Check-in before hanging plants and lights especially if it requires nails or screws. Keep it clutter-free to keep it feeling spacious (and to keep your property manager happy).



What are your ideas for transforming small outdoor spaces? Share them with us at #LifeatWeidner!


-The Weidner Team