Blog Home
Growing Odessa Community Has Roots Steeped in Texas Tradition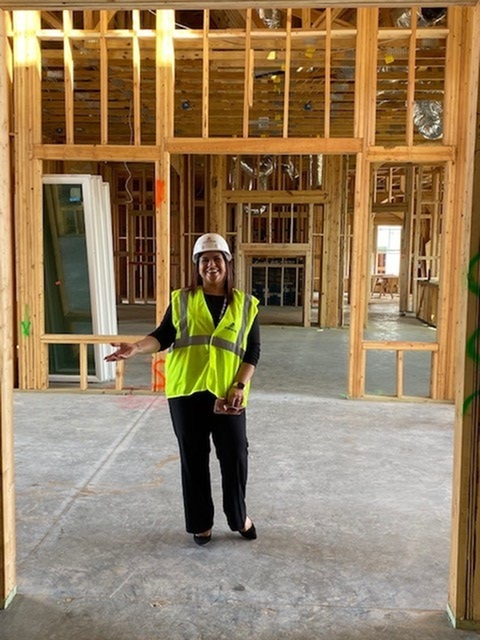 Sarina Smith, Community Director of Latitude 31° Apartment Homes at Parks Bell Ranch, standing in the future clubhouse, is ready to launch her warm and friendly community

You may have noticed some increased hustle and bustle in the nearby Bell Parks Ranch community off Yukon Road in Odessa recently. Today, the Parks Bell Ranch is becoming an inviting place to live near the Permian Basin with open spaces, new housing and apartment developments, walking and bike trails, modern schools, shopping, work spaces, and proximity to State Highway 191.

This increase in activity and construction signals a thriving Odessa economy and sends a message of hope and prosperity to residents with the creation of an enjoyable environment for west Texans while still respecting the long and distinctly Texan roots of Bell Parks Ranch.

History of Bell Parks Ranch
Roy Parks was born on a ranch near Breckenridge in 1896 to a family of horsemen, including his grandfather, Leroy Parks, who dealt in horses in Bosque County, and father Jim Parks who ran horses and cattle on the family ranch in Stephens County. In the early 1900s, Roy eventually bought some land between the growing towns of Odessa and Midland and slowly built one of the best Hereford herds in the country and built a ranch there.

Since those early days, Roy's progeny and Brian Bell, owner and developer of Parks Bell Ranch, have been working with developers and area residents to create a community where residents, businesses, schools and opportunities for recreation will converge.

Bell Parks Ranch today
Bell Parks Ranch is the newest planned community in Odessa and when it's complete, it will feature contemporary housing, green spaces with recreational trails and landscaped parks, office spaces, shopping, and more, all imbued with West Texan design and charm. With homes conveniently located near Odessa's employment center, and the construction of an overpass where Yukon Road intersects SH 191, Bell Parks Ranch residents will be able to avoid long commutes and enjoy more time at home, having fun. Also, they'll live less than 5 miles from two hospitals, The City of Odessa Park, the Wagner Noel Performing Arts Center, several schools and much more.

Now welcoming future residents to Bell Park Ranch
One development to be excited about is the luxury apartment community project, Latitude 31° Apartment Homes at Parks Bell Ranch, by Weidner Apartment Homes. CEO of Weidner Jack O'Connor said Weidner Apartment Homes started buying in the Midland and Odessa area over 30 years ago. "We feel like we've been a part of the community here for a long time. We're proud to be part of the growth and development in this area," O'Connor said, "and we are here for the long-term." Weidner currently has eight apartment complexes in the Odessa area, two of which are located off of Highway 191 – Mission Green Apartment Homes and Tuscany at Faudree Apartment Homes.

Sarina Smith, the upbeat and friendly community director of Latitude 31° Apartment Homes at Parks Bell Ranch, is excited to be part of this growing sector as it's being built. She said she's embracing the opportunity to not only manage the property with luxury apartments and upscale community amenities including a large pool, club room, wifi cafe, fitness center and the requisite Texan BBQ stations, but also to meet the future residents. Smith said she looks forward to building this new community, "from helping future residents find the perfect place to call home, to creating events that will be fun and help people form new friendships and a strong sense of community spirit."


Ready to live in luxury?
If you're ready to elevate your lifestyle to a luxurious level with wonderful amenities, a prime location and a friendly and professional staff, contact contact Latitude 31° Apartment Homes at Parks Bell Ranch in Odessa, TX today to schedule your personal tour at your convenience and discover your amazing new home.