Blog Home
Weidner s 10 Best Cities - Seattle, WA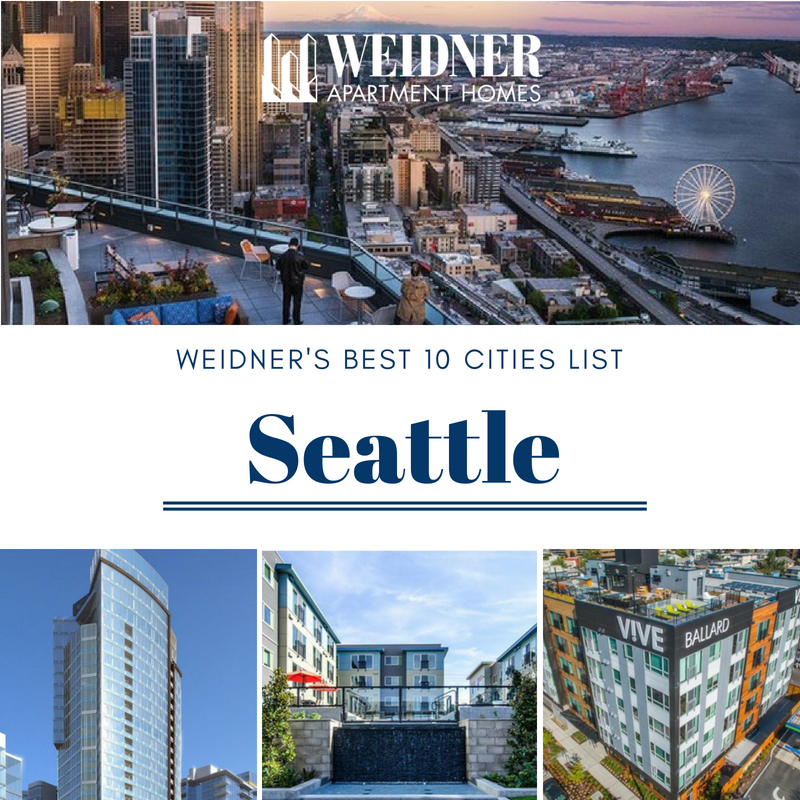 Ranking #1 on the Weidner Best Cities list and #10 on the U.S. News Best Places to Live list is Seattle, Washington! Seattle is situated on the Puget Sound in the Pacific Northwest, surrounded by evergreen forests, mountains, and miles of parks. It's also home to tech giants Microsoft and Amazon, a bevy of coffee houses, eateries, and cultural landmarks, making Seattle one of America's most eclectic and favorite cities.
Things to Do, See, and Taste in Seattle
Starting with one of the city's most recognizable and iconic landmarks, the Space Needle offers stunning views of downtown Seattle, the Cascade Mountains, Mount Baker, and Mount Rainer from its 520-foot observation deck. Just below the Space Needle sits the Chihuly Garden and Glass museum, a series of 8 galleries and a 40-foot Glasshouse. For the ultimate in Farmer's Markets, Pike Place Market puts the eclectic pulse of Seattle at your fingertips with a combination of specialty shops, fresh fish and seafood markets, antiques, collectibles and an array of delectable restaurants. For outdoor enthusiasts, Seattle offers a supple offering of places to explore and things to do. From paddle boarding and boating to skiing and snowboarding to hiking and biking, there's something for everyone at every level of fitness! Waterfront Park, Kerry Park, Kubota Garden, and Woodland Park Zoo are just a sampling of outdoor excursions the entire family can enjoy. Day trips are also available to Mount Rainer or nearby Victoria. For a tour of museums, locals and tourists alike rank the Children's Museum, Pacific Science Center and Museum of Flight high on their list of favorite cultural outings. Seattle is also known for its eclectic blend of music venues including The Crocodile, The Sunset, and the Tractor Tavern, for a sampling of local and national bands. Also synonymous with Seattle are its coffee roasters including Starbucks and Tully's with coffee houses on just about every corner. Storyville Coffee Pike Place, Ghost Alley Espresso and Moore Coffee Shop are among the favorites.
Employment and Education in Seattle, WA
Seattle is home to major employers including Amazon, Microsoft, Boeing, University of Washington, and Providence Health & Services. Colleges and Universities include University of Washington, Seattle University, and Seattle Pacific University.
Weidner Communities in Seattle, WA
Weidner Apartment Homes is pleased to offer an array of apartments for rent in Seattle, WA with amenities designed to please. Vive Apartments is a brand new community located in the heart of the Ballard neighborhood, featuring breathtaking views of the Sound and Olympic mountains. Tower 12 Apartment Homes is located in downtown Seattle, with easy access to sports stadiums, restaurants, shopping and downtown office buildings. Whether you are new to Seattle or a longtime resident of the city, Weidner shares your enthusiasm for this bustling city. We hope you've enjoyed our Weidner List of 10 Best Cities Series. We've introduced you to some of our favorite cities, including Sacramento and Tuscon, where Weidner offers you quality apartment homes that you can rely on for comfort, style, and the ultimate in livability.  If you haven't already, be sure to check out the rest of the series to see if your favorite city made the cut! -The Weidner Team