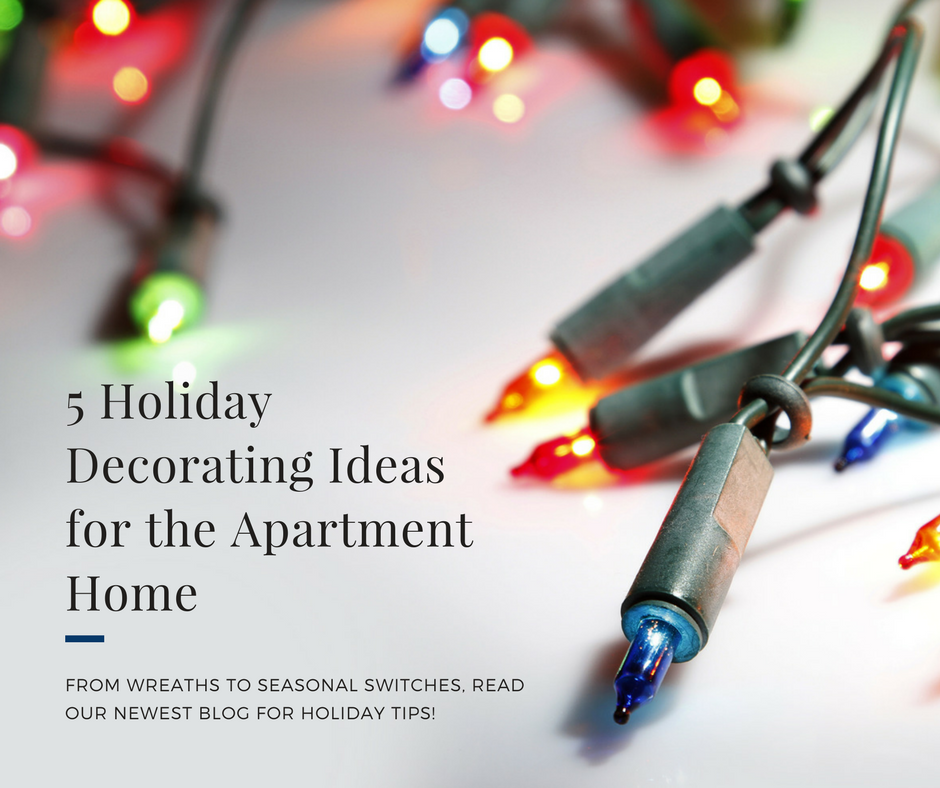 5 Holiday Decorating Ideas for the Apartment Home[/caption] Holiday décor can be a challenge when you're working with less space than say, a sprawling ranch in one of those romantic holiday movies, but with a little creative effort, your apartment home can be transformed into a festive hub of good cheer. Here are 5 holiday decorating tips to try this season:
Wreaths aren't just for front doors anymore. Hang them in the window, over your bed, in the hallway. Light them with battery powered string lights so you don't have to worry about hanging it near an electrical outlet. Use damage-free hangers and tape and keep the maintenance staff happy!
Hang indoor white lights around door and window frames. It adds a warm glow for very little cost and gives entryways a little pizazz.
Get sentimental and gather photos of friends and family from past holidays and create a display on a designated shelf, tabletop or fireplace mantel. Guests will be delighted to "make the cut" and are likely to share stories and memories of past holiday events. Invest in some matching, holiday-themed photo frames and re-use them each holiday season.
Create theme-based trees for each room. There's no rule that says you can only have one Christmas tree. You can match the colors of your décor in the living room, and then do a beach-themed tree for the bedroom or office. You could go with traditional jewel colors and ornaments on the family room tree and a world-traveler tree in your guest bedroom featuring tiny maps and binoculars and ornaments from different destinations you've been to or dream of visiting. Kids love to decorate their own mini trees and it adds to the joy of the season to watch their imaginations take shape. Try a wood-based tree that's specifically made to display ornaments for a simple, elegant look.
Don't forget the kitchen and bathroom. These are two rooms that are often forgotten in holiday décor. Seasonal towels for the kitchen and bath make a great gift and they add instant cheer. Not to mention they can be washed and used next year. Do replace them if they get faded or stained. For the kitchen, search bargain deals for holiday-themed plates, napkins, glasses, and silverware. Stop by your local garden center or grocery store and choose a small, live rosemary bush trimmed in the shape of a tree. Its fragrance will keep you in the holiday spirit and with a little water and care, you'll have fresh rosemary at the ready for all your holiday recipes.
What are your holiday décor ideas? We can't wait to see the holiday spirit come alive at Weidner Apartment Homes! Have a safe and happy holiday. -The Weidner Team