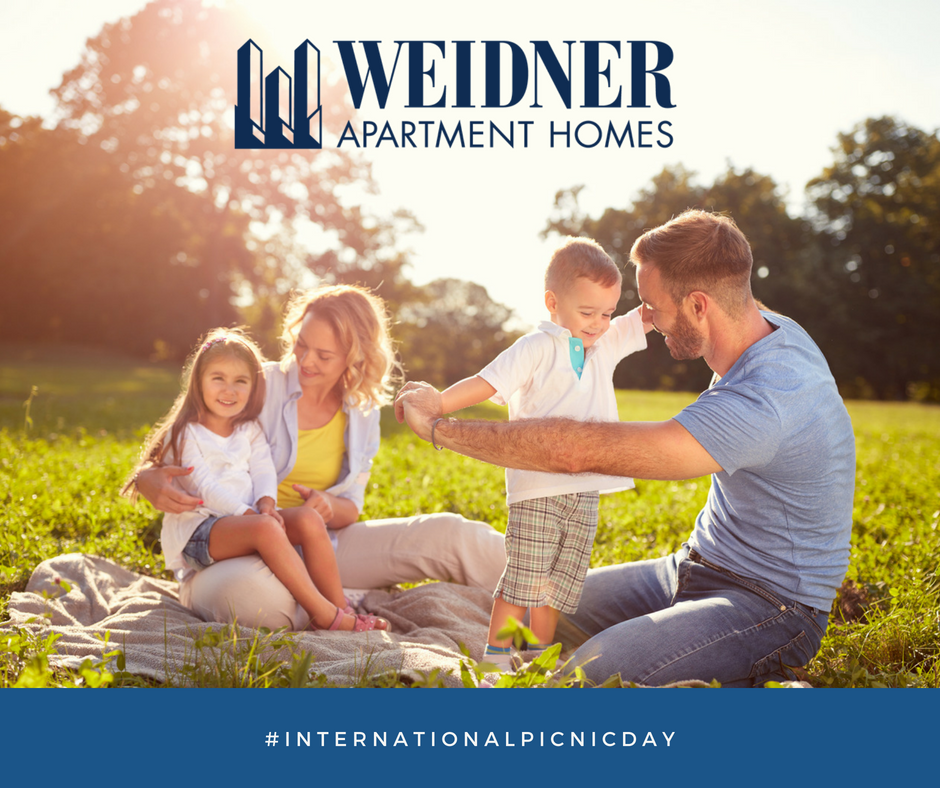 June 18 is International Picnic Day and we thought we'd share some of our favorite ideas to host the perfect picnic. Whether you're hosting the family, a group of friends, or your date, picnicking with prowess requires some preparation for the best results.
Gather your supplies! You can find complete picnic baskets with all the supplies already inside or you can roam around your own apartment and create your own customized picnic basket. You'll need at least one blanket for the ground, utensils and napkins. Some other items you might consider are hand sanitizer or wipes, a tablecloth, umbrellas for shade (or rain if you like picnicking in moody weather), bug spray and sunscreen. This is in addition to your food and beverages.
Find that perfect spot. If that happens to be a picnic table under a picturesque shade tree – great, but sometimes you might have to do a bit of scouting to find just the right spot to spread your blanket and feast. Serious picnickers make an entire day of it and set up tents or cabanas. If that's you, scout early and stake your claim. Summer is a lovely time for family picnics. Consider how much privacy you want and how much room you may need for games like horseshoes when you choose your ideal spot.
The menu. Most grocery stores have pre-made picnic boxes with ready-made foods like sandwiches and fruits and snacks, but if you don't mind the extra prep time, check out these delectable recipes from Martha Stewart and the Barefoot Contessa.
Entertainment. Who says picnics have to be quiet? Plan your entertainment out with your favorite playlist, accompanied by some games like horseshoes, cornhole, and all things cool like water balloons and water toys. If someone plays the guitar – ask them to play some tunes for the outdoor concert effect.
Miscellaneous tips for the perfect picnic:
Keep the bugs, bees, and birds away from your food by keeping it covered tightly. Fill up a pitcher of sugar water and set the pitcher away from your feast to distract bugs and bees. Slice up some citrus fruit and place it on a plate away from your table to distract the bugs, bees, and birds! Residents near beach areas know all too well how fast a seagull will swoop in for your sandwich. Keep food tightly covered in special containers or aluminum foil. Or, invest in a pack of hair nets. The elasticized band fits perfectly around a dinner plate, protecting all your favorite foods.
Pre-freeze water bottles and use them as ice packs to keep food cold during the day.
Repurpose an egg cart and/or a muffin tin to transport smaller food items and keep them from spilling.
The most important ingredients for any picnic are fun and relaxation. Enjoy your summer picnic on International Picnic Day and every day! -The Weidner Team