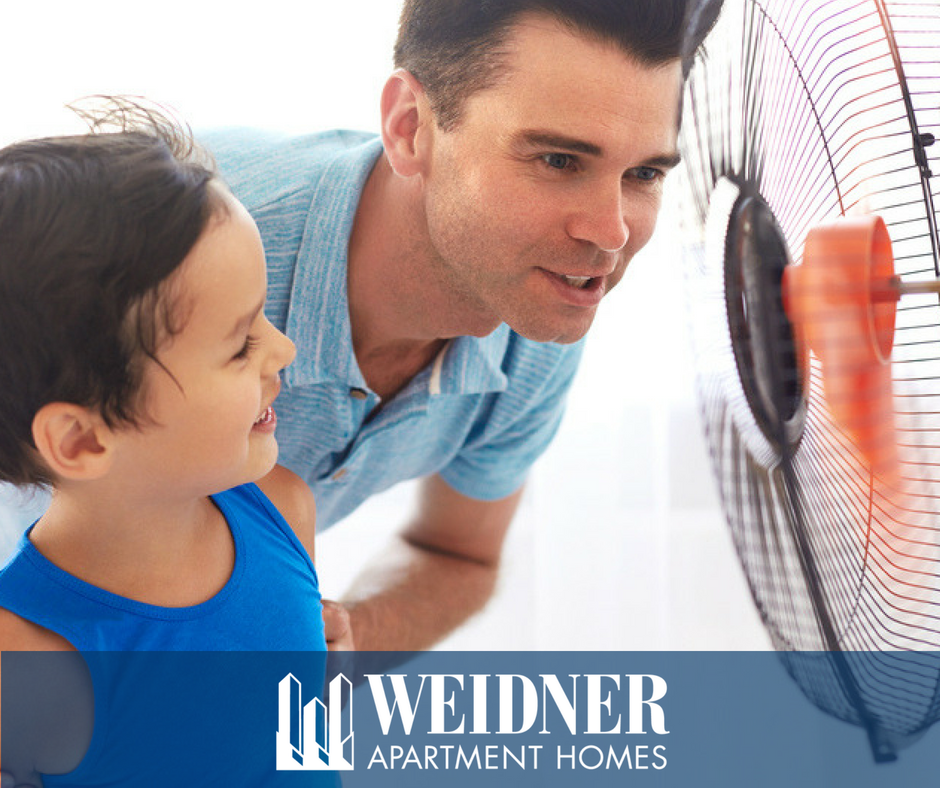 Cranking up the air conditioning is probably the most popular solution for beating the summer heat, but it's not the most cost-effective. Here are a few tips to stay cool without cranking up the AC:
Cool your sheets! Utilize the ice packs from your freezer and place them between the sheets 5 minutes before you go to bed. It does wonders!
Place a cup of water in front of a fan. Sounds old school, but it really works. Place a cup or glass of ice water in front of a fan on your bookcase, dresser, or end table and feel the cool, moist breeze.
Take a cold shower or jump in the pool before bed. Cool water helps bring down your body temperature and will help you sleep through the night.
Turn off the lights. Lights radiate heat. If you don't need that light on to read or navigate through your apartment home – turn it off. As a bonus, you're saving money!
Snack on melons and citrus! Watermelons and other water-dense fruits like cantaloupes and oranges can help quench thirst and cool you down, while also supplying you with a healthy dose of vitamins. Also, try keeping fruit or cucumber-infused water on hand for a tasty, hydrating cooldown.
Reset ceiling fans to rotate counter-clockwise. This pulls the air from the cooler part of the room and redistributes it onto you, instead of pushing the hot air that naturally rises – down on to the back of your neck – where you're already overheated. Speaking of the back of your neck-
Place cold compresses at the base of your neck and on your feet. Brr! Your body will think it's winter outside. (That's the idea, anyway.)
Cook outside. Take up the art of grilling and avoid cooking indoors whenever possible. See our Grilling Tips blog for some tasty tidbits!
Keep the blinds and curtains closed. We're not saying you should sit in the dark both day and night, but it will help cool down your apartment home if you keep out the sun as much as possible.
Keep it casual, keep it cotton. Cotton fabric is by far the best choice for clothing during the summer months. Slinky, silky materials might look fancier, but they won't keep you as cool as cotton.
Here's to beating the summer heat, keeping cool, and shaving a few dollars off that energy bill. Share your cool living tips with us at #LifeatWeidner. -The Weidner Team