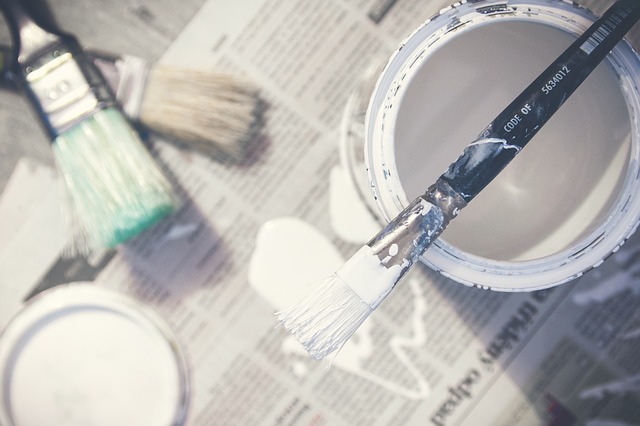 Is your home feeling a little impersonal? Sometimes, its too easy to lose yourself in a sea of flat-pack furniture from your closest big box retailer. We're not saying there's anything wrong with easy and affordable furniture, it can just lack some personality. There's no better way to infuse your home with style and sustainability than by completing a DIY project. These projects are a way to make something with your hands and upcycle a piece of furniture or fabric that could very well end up in a landfill. It's easy to go green and create amazing accent pieces, with the DIY projects outlined below.
Put a Curtain On It
Have a blank space you don't know what to do with? What about hanging a large statement piece? With a little hardware, some patience, and a shower curtain, you can make a wall hanging that only looks expensive. This DIY from House of Jade Interiors may look complicated, but it's actually quite easy.
All you need to do is go to your closest Home Depot, pick out some wood for the frame–the lovely employees can cut the wood for you–pick up the necessary nails and hardware if you don't have them already, and repurpose an old shower curtain. Put the frame together, iron the curtain, then stretch and nail the curtain onto the frame. It helps to have an extra set of hands. We've found that bribing your friends with a large pizza will do the trick.
This is an easy way to create a statement piece for your home that's incredibly light and easy to hang. You can display it with strategically placed command hooks. Sourcing all these materials, from the nails to the shower curtain, is easy, just check your nearest Home Depot.
Fix Up Your Old Furniture!
Have some old or ugly office furniture you don't know what to do with? It's amazing what a simple coat of paint can do. If you're stuck staring at an old file cabinet and wondering what to do with it, paint it! If you're on the hunt for some cheap pieces, flea markets and antique malls are full of old office furniture waiting for a facelift. Kelly, of the DIY blog Sprinkled & Painted, shows how she gave a 100-year-old file cabinet a much-needed facelift.
With a little bit of elbow grease and spray paint, a drab piece of office furniture can really tie the room together. A simple trip to Home Depot is all you need to source the supplies. As for a workspace, just ask your property manager! There are some outdoor spaces at your property and you are more than welcome to use them, just ask your property manager what space you can use for things like sanding and spray painting.
Personal touches make your apartment truly feel like home. Though DIY may seem intimidating at first, these projects are truly an easy and fun way to add some unique charm to your living space. Do you have any projects you're planning or want to show off? Share your photos with us at #LifeatWeidner.
-The Weidner Team