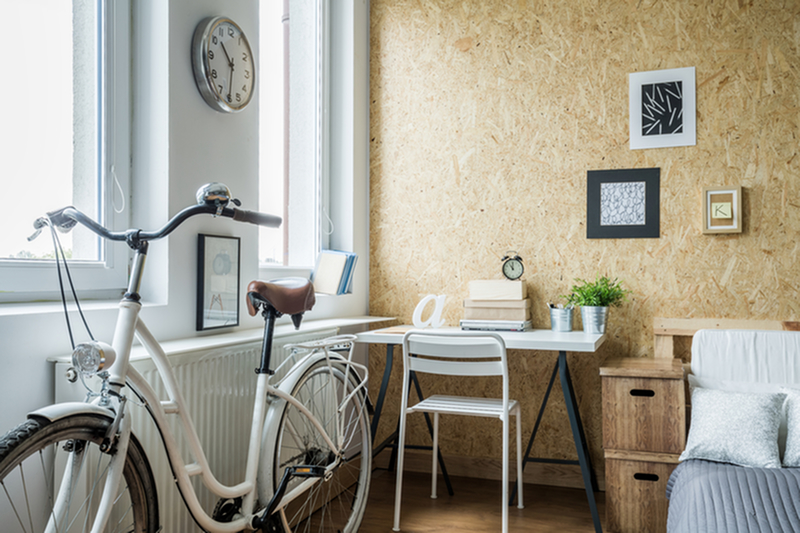 Whether you rely on a bicycle for transportation or you just enjoy a leisurely ride around the neighborhood, bike storage is a necessity. No matter how safe your community is, it's always smart to keep your bike inside your apartment. However, living in an apartment poses extra challenges since space is limited, but this doesn't mean your bike can't have a place of its own!
Storing a bike in your apartment is easier than you may think. With just a little bit of organization and a dash of creativity, you can store your large beach cruiser or small city bike anywhere you envision in your apartment.
Set it up under the breakfast bar
Do you have a breakfast bar that you barely use in your apartment? If so, consider using that "shelf-like" space to store your bike underneath. Move those chairs aside and hang it there. Utilizing this apartment feature can make your bike easily accessible without sacrificing any valuable floor space.
Keep it in your room
You can also set up the layout in your bedroom to create a place dedicated for your bike. A great place to tuck it in is the little hallway-like space between the bed and the wall, opposite of your favorite side of course! If there is enough space between your bed and the closest wall, you can even place your bike there, depending on how often you use your bike. If you use your bicycle as your primary means of transportation, it's best to have it close to an exit. When deciding where you want to keep your bike, just remember not to block any access to items you use daily such as a closet or doorway.
Take Advantage of a Spacious Closet
Maybe the furniture in your room won't allow your bike to be neatly stored, or you might prefer to keep it out of sight. A simple solution? Store your bike inside the closet. It's already a designated storage place and can be the perfect way to tuck it out of sight when you don't need to use it. If your bike doesn't quite fit, you can purchase and easily install a bicycle hook or bracket specifically designed for this setup.
How do you store your bike in your apartment? Share some tips in the comments with other readers at #LifeatWeidner