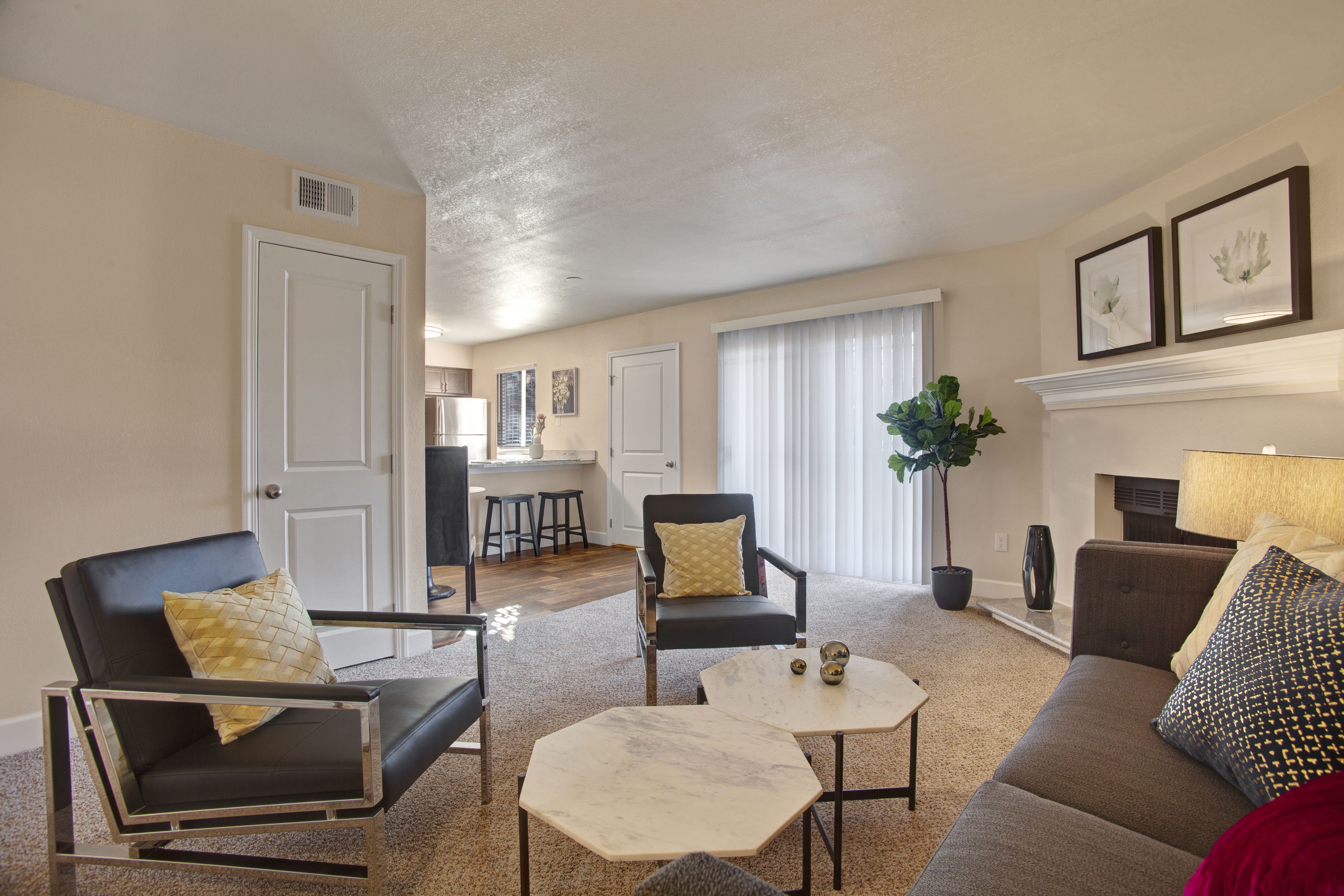 The Indigo Apartment Community in Oklahoma City is creating a buzz for all the right reasons. What was once a somewhat dated apartment complex in need of an upgrade is now a standout community that is elevating the surrounding neighborhood. In short, Indigo has undergone some major renovations and has proven that putting investments and hard work into this area south of Edmond can reap significant rewards.
Indigo's lengthy list of upgrades and renovations hasn't just changed the lives of the people who live there. This total transformation has started a ripple effect, encouraging other businesses and buildings to make similar changes to their properties as well. Slowly, an area that once felt forgotten is now getting the attention it deserves.
Before Weidner's move to renovate, the community needed some major work. However, it was also very clear that its location, just 15 minutes from Downtown and directly across the street from the Chisholm Creek shopping district, is what gave it so much potential.
The Location
Indigo Apartments is located right off of the Kilpatrick Turnpike, making it easy to commute to work and school. It's also central to some of OKC's biggest employers, such as Mercy Hospital and the Paycom company headquarters. From Indigo Apartment Homes, you're 15 minutes from Lake Hefner, Mecklenburg Park, and the Martin Park and Nature Center. Residents appreciate being a short drive to local restaurants, boutiques, high-end retailers, and big-box stores like Costco and Walmart. The location just south of Edmond attracts people who lead active social lives.
The Transformation
Over the last several months, the Indigo Apartment Homes community has been in revitalization mode. From completely transformed apartments to upgraded amenities and plans for future upgrades, the apartment community is completely unrecognizable from the place it used to be.
The Apartments
Every Indigo apartment has been through a complete demo process and thorough renovation. Everything has been upgraded to give residents more high-end living experience. The new and improved apartments now include:
New washer and dryers
Brand new stainless-steel appliance packages
Elegant granite countertops
Brand new AC systems
New floors, baseboards, light switches, and outlet covers
New cabinets
New tubs, showers, and sinks
New paint
Upgrades to the patios and balconies
New windows and doors
Although these new luxuries come with a nominal increase in rent prices, Community Director Miles Diaz reports that a high percentage of current residents have renewed their leases and chosen to stay in the community because it's so beautiful and they love living at Indigo. In fact, some of them have lived here for 20+ years and are excited to be a part of this dramatic transformation of a neighborhood they've grown to love.
The Amenities
Not only have the individual apartments been upgraded to meet the needs of current residents, but major renovations have been happening across all areas of the community. One of the most exciting improvements is a dedicated Residents' Center designed to meet the specific needs of the people who call Indigo home. This comfortable and functional community space will feature wifi access, comfortable lounge furniture, a large screen TV, and rentable business space.
The community also has a team dedicated to answering resident questions, renewing leases, facilitating maintenance, and offering quick and professional service to those who live there. This allows the leasing center to schedule tours and assists new and prospective residents, while the Resident Center team can focus specifically on current residents, offering more effective, efficient, and streamlined service.
Some of the great community amenity upgrades include:
A brand-new resort-style pool
New awnings and lounge furniture around the pool
A new outdoor gas fire pit and charcoal and gas grills
New turf area with a yard game and community space
Outdoor dining areas and plenty of outdoor seating
Fully resurfaced and re-tiled second community pool
Splash pad (Coming soon)
Dog park and neighborhood pet stations
A spectacular fitness center with cardio equipment, strength-training machines, and free weights
Onsite after-hours security patrol
Onsite maintenance
Indigo Apartments is redefining apartment living for residents in OKC. It is proof that with a lot of hard work, hope, and hustle, change can happen. Growth can happen. And the growth within Indigo Apartments has started a ripple effect. A part of town that may once have been known for low-rent apartments and outdated surroundings is now starting to shine. People want to move here. People want to live here. People want to stay here. Schedule a tour and you'll see why!
We're excited about what Indigo Apartment Homes is doing, and has done, for the local neighborhood. We're proud of how the community, the residents, the staff, and our neighbors have stood by us during this transformation.
Want to see the community that has started a transformation in OKC? Call us today and schedule a tour of the new and improved Indigo Apartment Homes. Come see why so many people are excited to be a part of what Indigo Apartment Homes is doing, and see how you can be a part of it too!