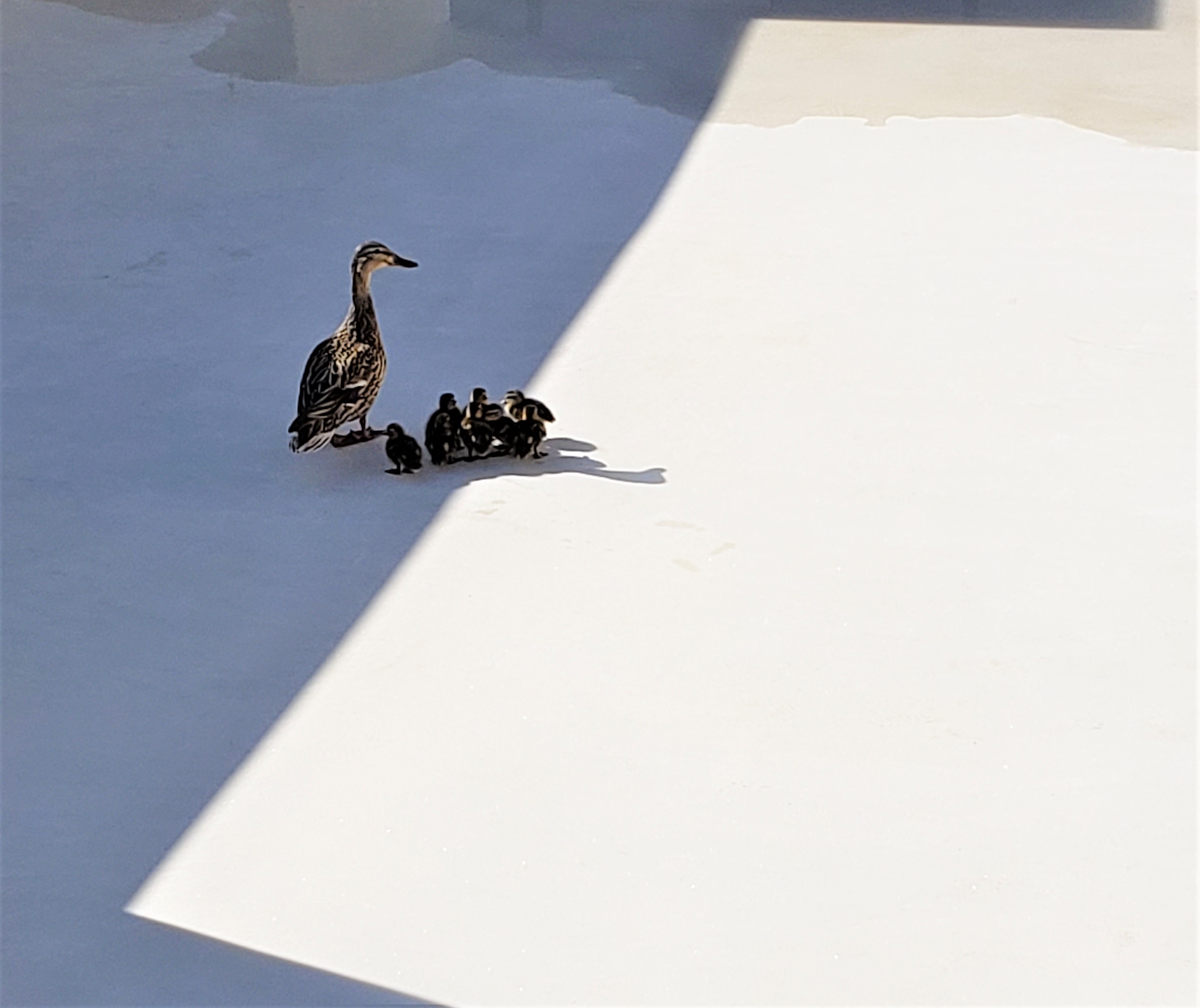 Sometimes it's the little things that brighten our day and this little story delighted both the people involved and quite a few onlookers as well.
Cole Zirbel, a Leasing Consultant at 4800Excelsior Apartment Homes in St. Louis Park, MN was recently working on reopening the courtyard in the apartment community following closures caused by COVID-19. There was just one problem… during the closure, "a mama duck had started nesting on one of our second-floor patios with her eight little ducklings who were not yet ready to fly," according to Cole.
Being unsure how to proceed, Cole decided the best thing to do would be to consult with some local Minnesota resources on the best way to safely relocate the ducks to a new home. Unfortunately, he was advised to try and scare the mother away, load the babies into a box, and hope the mom stayed around long enough for him to bring the babies outside. That advice didn't thrill him because he was hesitant to traumatize the birds. "I work in an apartment community that loves and welcomes pets and I didn't want to hurt any animals," he said.
By the time he'd learned this information, he was the last person working at the property for the day and just when he was unsure how to proceed, the phone rang. Coincidentally, it was a resident who was calling to inform Cole that the ducks had all jumped into the unfilled pool and were now stuck inside the deep basin. "At this point I knew I had to do something now," said Cole. With the concerned resident at his side, they both entered the empty pool and started chasing and collecting the ducklings to put them into boxes. "We were able to round them up fairly quickly. However, the momma duck never flew away, so we decided to try and catch her too. Needless to say, that was quite a bit harder," he said, laughing.
In fact, after several failed attempts, Cole said he heard laughter coming from above him, so he looked up to discover that the majority of the residents with balconies facing the courtyard had decided to come out and watch the commotion/entertainment. "A while later we were able to safely secure all of the ducks, to an eruption of wild applause and cheers from the onlookers," said Cole. The fiasco ended well when they were able to release the mother and her babies safely into the park nearby "and they swam away happily ever after," he said.
The next day, as a token of gratitude to the resident who had helped capture and relocate the little feathered family, the staff at 4800Excelsior presented him with a gift card and, what else? A stuffed animal mama and baby duck, of course!
Do you have any fun stories about animals in your apartment community? Please share them with us below!