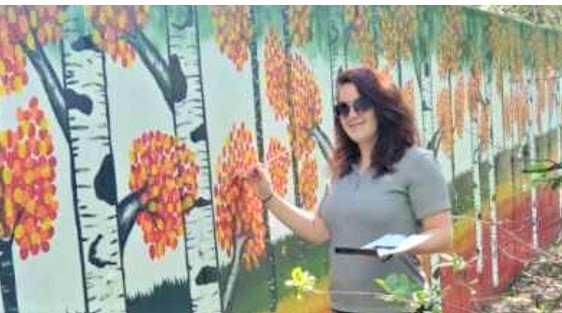 What do you do when there's a huge, unsightly wall in your community? Transform it into art! That's what Weidner's Colorado Area Director Robin Boddy decided recently after seeing one too many graffiti tags sprayed on the perimeter wall of Weidner's Hyde Park community in Colorado Springs.
"That Wall"
"Not only do I see it at work, but I also run on the trail that borders Hyde Park. Robin explained, "Hyde Park is such an amazing property, such a cute little community, and it's in the perfect location, but that wall… ugh, it was so ugly," she said with a laugh. In contrast, farther along the trail she enjoyed seeing a bright and colorful mural painted on a bridge wall.
She said that previously, she had often thought to herself, "If only we had something like that painted on our wall, it would be something nice to look at for our residents and everyone using the trail." Then the pandemic hit and, by April, while everyone was adjusting to new information, protocols, and levels of response, work slowed down in most of our leasing offices for a bit.
"Something Good"
Robin decided that "maybe something good could come out of all of this pandemic." Knowing that in normal times, it would have been virtually impossible to pull anyone out of their leasing office for two to three weeks, it was clear that "this was the perfect time to get that wall painted," she said. So she reached out to someone she'd worked with for years and knew was a talented artist.
When Leasing Consultant Chelsea Cook heard from Robin she immediately said, "Yes!" In fact, she welcomed the distraction. During the first few weeks of the COVID crisis, "we were all kind of scared and uncertain what was going to happen," she said. "It was really nice to be able to focus on something creative and positive that had the potential to put some joy out into the world during such strange times."
While Chelsea currently works at Grand View Apartment Homes in Colorado Springs, she had previously worked at Hyde Park North where her coworkers had often witnessed her artistic talents when she worked on posters, signs and advertising, but "her true talent was on full display when she created amazing original drawings for each new resident on our chalkboard wall!" said Robin.
As Chelsea considered subjects to display on the new wall project, she said, "I asked Robin if she wanted the wall-art to be marketing-focused to advertise for our company, but she said, 'No, create something to make people happy… I want this to be a Love Note' so that's what I tried to do."
The Project
Chelsea said she loved the idea of painting aspen trees because she's always been fascinated their beauty. "They're gorgeous in all four seasons and seem to sport a lot more colors than many other trees throughout the year." After clearing the design with Robin and ordering supplies, Chelsea got to work.
She said she didn't need a detailed blueprint because, "I've always just been able to see what I want in my head and then make it happen." Her canvas was one long 149'x8' wall, and she divided it into four equal sections – one for each season. Next, she applied colors along the bottom and then it was time for the trees. Chelsea said she first painted the tree trunks, then the branches, and finally the colorful leaves. From concept to completion, the project took roughly three weeks to complete.
The Joyful Results
Both Robin and Chelsea shared tales of many people, both Hyde Park residents and people who use the trail, approaching Chelsea as she beautified each portion of the adjacent popular neighborhood pathway to ask about the project, compliment her work, and thank her for Hyde Park's Love Note to the community at large. "When I told them that our company just wanted to make things a little bit prettier, we got so many thumbs-ups and big smiles," said Chelsea.
Most importantly, according Robin, "I think we both just appreciated the opportunity to do something that's making an entire community happy."