There is a significant difference between apartment communities that allow pets and apartment communities that love pets. It's easy to tell the difference between the two, and it can be a lot more convenient and stress-free to live in the latter. While many apartments allow you to live with your pet, it's essential to find a community that genuinely embraces your four-legged roommate!
Here are the top five benefits of living in a pet-friendly apartment community.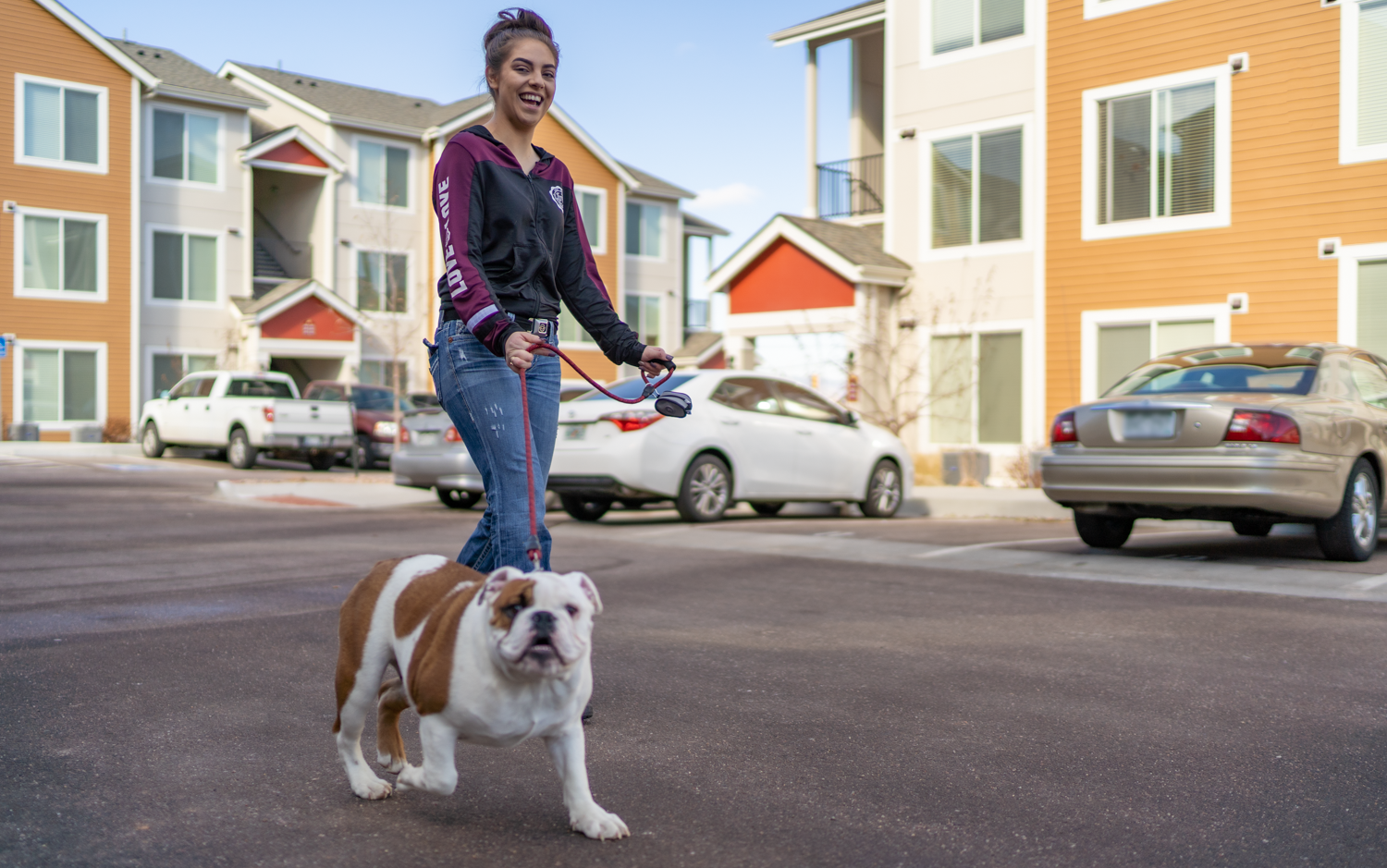 1. Meet other pet people
When you live in a pet-friendly community, you are much less likely to live above or below someone that hates pets. Moving into a pet-friendly apartment automatically connects you to a group of people who appreciate pets or also have one of their own. You and your furry friend will be welcomed to a group of like-minded neighbors who may become both of your lifelong pals. Apartment communities with dog parks, dog runs, and other pet-inspired amenities give neighbors a chance to come together over their love for animals.
Some apartment communities even have social groups for owners and their pets and host pet-themed events like talent shows or costume contests. When you actively seek out a pet-friendly apartment community, you're giving yourself the gift of living in a place surrounded by people who love their pets just as much as you do. Who knows, they might even become great built-in pet sitters!
2. Live in a pet-accepting place
If you've ever lived in a community that tolerated pets but didn't necessarily welcome them, then you've probably experienced the stress that comes along with living around non-pet-people. You may be nervous that your neighbors will complain about any noise your pet makes or that they will be afraid of your pet.
When you live in a pet-friendly community, you will live with people who are likely to alert you if they see your cat sneaking out or be patient when you're trying to train a puppy not to yip at night. This reduces stress and allows you to live comfortably in your own space. Even if your neighbor doesn't live with a fuzzy housemate, they are much more likely to be understanding and accepting of your pet.
3. An extra layer of security
Statistics show that thieves are less likely to target a home if a dog lives inside. Apartment communities with pet-friendly amenities, like dog parks, sends a bold message to would-be thieves that their chance of running into a dog during a break-in is very high. This can help lower crime rates within pet-friendly communities. So even if you don't have a pet of your own, living at a pet-friendly property has other perks that don't just apply to your pet-owning neighbors.
4. Convenient pet amenities
Living in a pet-friendly community also gives you access to convenient pet amenities. Instead of needing to drive to your city's dog park, you'll likely have direct access to one just a few steps from your front door. Some apartment communities even offer dog washing stations and wide walking paths perfect for a run or a leisurely stroll with or without your pet. Apartment living usually means you don't have access to a private backyard to let your dog run free, so the next best thing is having easy access to pet amenities that make your life easier.
5. More socialization for your pet
Living in a pet-friendly community means more animal interaction and increases a pet's socialization. Since you're surrounded by other pet owners, coordinating puppy playdates is much more convenient. The additional socialization can be a great outlet for both you and your pet. Plus, living with other animals close can improve your pet's behavior as the increased interaction can help burn off their extra energy.
Weidner Apartment Homes understands that when it comes to finding an apartment, choosing a place that equally welcomes both you and your pet is non-negotiable. We know that pet owners are looking for a place that not only tolerates pets but welcomes them with open arms! That's why we offer pet-friendly apartments with many pet-specific amenities to make you and your furry friend feel right at home.
Contact Weidner Apartment Homes today to find the perfect apartment community that you and your pet will love!