Kitchens are typically the heart of the home. It's not just where food is prepared; it's a gathering place.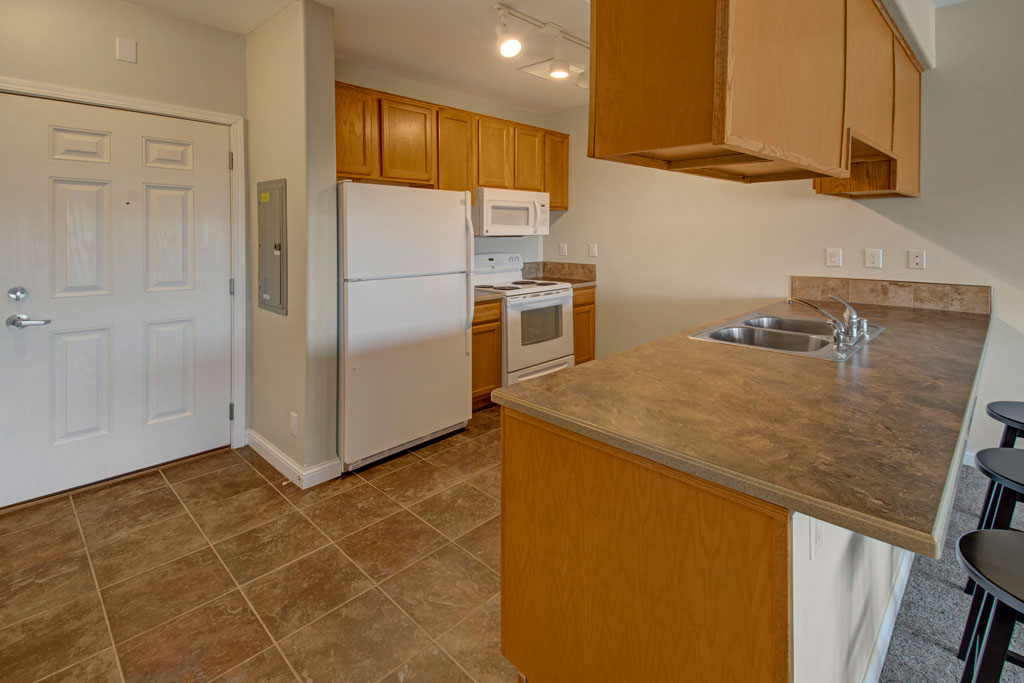 However, if you live in an apartment, you may not have as much kitchen space as you'd like. We get it, so here are some of our favorite kitchen ideas for apartment living.

Use Your Kitchen Tools As Art
In a smaller kitchen, storage space can be hard to come by. Instead of trying to cram all your kitchen tools into cabinets, reimagine them as decorative pieces for your walls. Displaying your knives on a wall strip looks chic and frees up counter space. The same goes for pots and pans. These could either hang on a rack or the wall. However, if you're confident they won't fall, overhead is also a great storage place.
Be strategic. If you use a particular kitchen tool a lot, displaying it on a wall or ceiling is a great way to keep it accessible while creating a modern and functional look. However, you can also show your most eye-catching pots or knives and keep the more practical pieces readily available in a drawer.

Go Green
In your decor, that is. Potted plants are an inexpensive and easy way to brighten a small space. If you have a lot of kitchen tools, plants will break up the monotony. Bonus points if you grow plants that you can cook with, such as herbs.
If you're more comfortable dreaming up kitchen apartment ideas than becoming an amateur gardener, don't fret. Plenty of houseplants require minimal upkeep. There's also no need to install an entire greenhouse in your kitchen. But in a tight space, even one big pop of green color can make a huge difference.
A houseplant with long tendrils will create a sense of dynamic movement, and displaying at least one plant on a higher shelf will naturally draw the eye upwards. Your kitchen will seem bigger, and your plant will be out of the way.

Start With a Great Kitchen Space
Of course, the best way to effectively implement your small kitchen ideas is to have a great kitchen in the first place. Confluence at Harvest Hills Apartment Homes in Williston, North Dakota, provides you with one!
Each of our apartment homes is designed with your comfort in mind. Confluence at Harvest Hills allows you to choose between one, two, and three-bedroom floor plans in various configurations. We've included large windows to let in plenty of natural light, spacious closets, private patios and balconies, and in-unit washers and dryers.
But we're especially proud of our kitchens. They have plenty of counter space, roomy cabinets, deep double sinks, and energy-efficient appliances. Whether you want to unleash your inner chef, enjoy a simple family meal, or prefer to order in, our kitchens are just the place!
To schedule a tour of Confluence at Harvest Hills Apartment Homes, don't hesitate to get in touch with our leasing office, where our knowledgeable team members are eager to help you find the perfect home for your unique lifestyle.