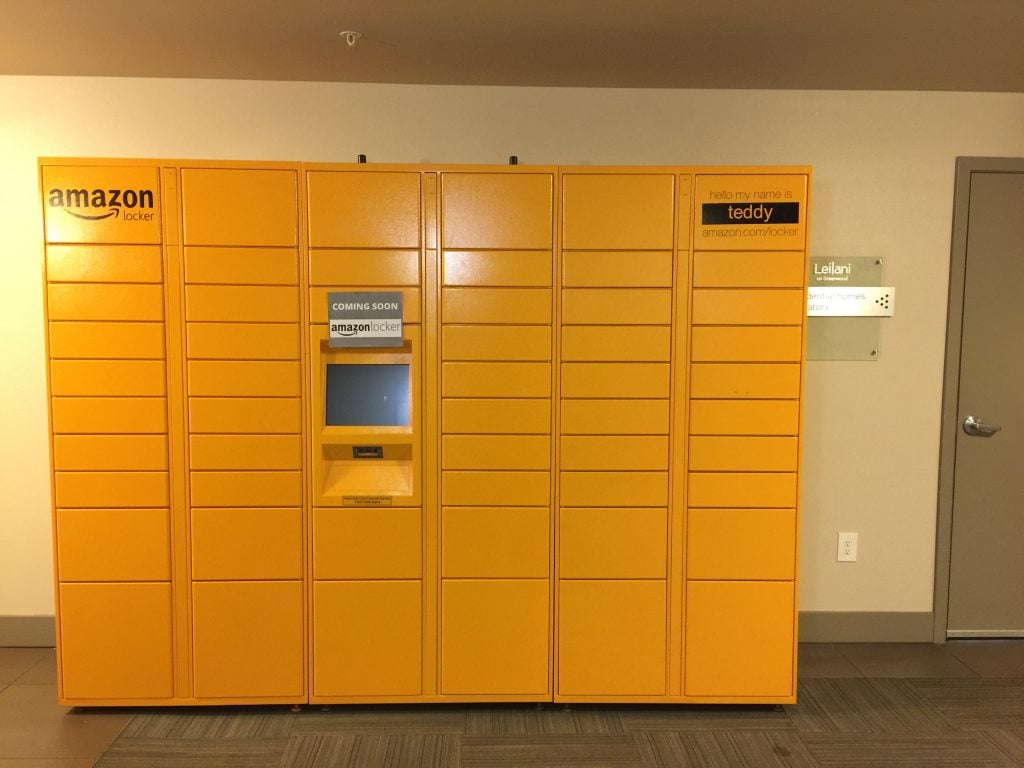 Just in time for Black Friday and Cyber Monday, Weidner Apartment Homes has teamed up with Amazon to deliver packages to residents through Amazon Lockers, located directly on the property. The two test communities are now ready to receive packages for the eager residents of Leilani Apartment Homes in Seattle, WA and 7West Apartments in Minneapolis, MN. With "Locker Teddy" installed at Leilani and "Locker Clancy" at 7West, residents can avoid the mad dash to the leasing office to retrieve their package during business hours. Now they can enjoy the convenience of an efficient self-delivery service that will always coincide with their schedule.
Two Colliding Trends
Installing Amazon Lockers at Weidner properties will have an enormous impact on the leasing staff during the upcoming holiday season, and beyond. In the 2015 Wall Street Journal article, "Web Shopping Deluge Boxes in Landlords," it was estimated that it takes 10 minutes of productivity time to track a single package, causing some management companies to refuse package deliveries all together. The WSJ article defined the issue as "Two colliding trends: an increase in apartment living and a surge in online shopping. The result is a rising tide of packages with no good place to go." The holidays are a blissful, joyous time, but when the leasing office starts to resemble a packing plant and leasing consultants are lost behind a stack of boxes, it's time to take action. With Amazon Locker, pick up and return service lockers are conveniently located minutes from the residents' front door. Once the package is delivered, the resident receives an e-mail notification with a unique pickup code and specifics about the pickup location. To retrieve the package, the resident simply enters the pickup code or scans the barcode and follows the instructions on the screen. Amazon's policy states that "all packages must be retrieved within three business days, or the package will be returned for a full refund." According to Forrester Research, an American-based independent technology and market research firm, the number of online shoppers is expected to increase exponentially over the next five years. They project "an additional 26 million shoppers will be both browsing and buying from retail sites by the end of this decade, reaching 270 million, as bigger smartphones and faster wireless networks make it easier for consumers to use the Internet to shop on their phones."
270 million shoppers. That's a lot of packages.
While Weidner Apartment Homes might not see package deliveries in the millions, implementing Amazon Locker at the property level frees up the leasing staff so they can allocate their time ensuring residents are experiencing the high quality apartment living they're known for.
"We're excited to partner with such an iconic brand right in our own backyard," says a Weidner spokesperson. "Package management around the holidays can prove quite a challenge for many of our teams, but more importantly, Weidner is excited to provide this additional convenience and access for our valued residents."
Weidner has a unique Amazon URL at http://Amazon.com/Weidner, making the online shopping process even easier. When selecting a delivery preference, residents simply choose the locker option and enjoy the peace of mind that comes with knowing their purchase is on its way, and that it will be delivered in a timely fashion. No more pressing their noses against the glass of the leasing office, pleading with managers to open the door because Mom finally shipped her specialty holiday cookies. Now that time can be better spent eating those holiday cookies.
What Matters to You, Matters to Us
Weidner offers quality apartment homes for rent in both the US and Canada, including Alaska, Arizona, California, Colorado, Minnesota, Oklahoma, Texas, Utah and Washington, and across Canada in Alberta, British Columbia, Manitoba and Saskatchewan. Aligning with Amazon to deliver packages to residents is just one more example of the Weidner motto in action, "What matters to you, matters to us."