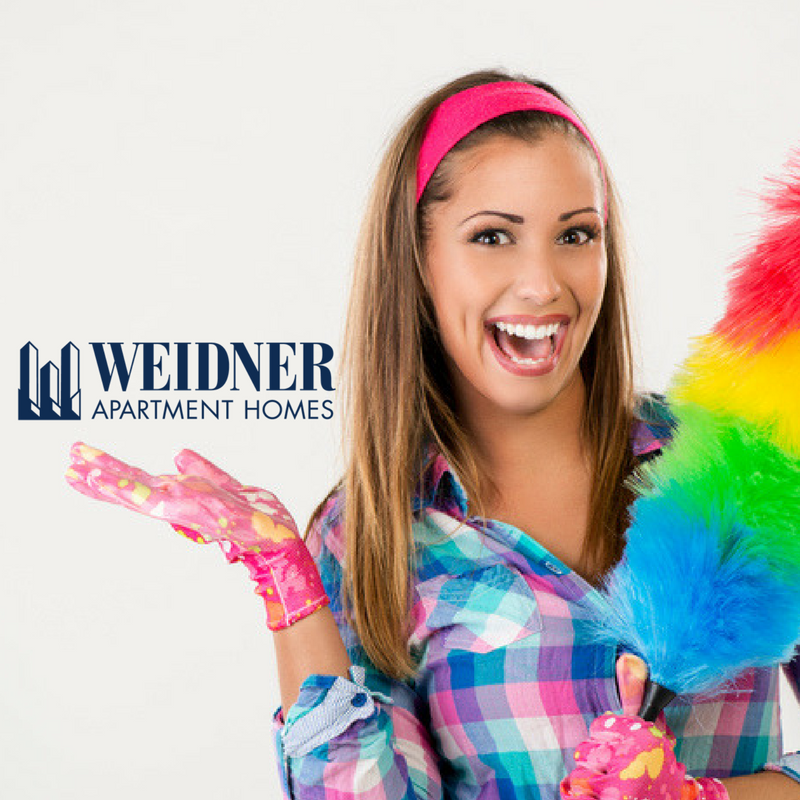 Spring Cleaning Tips for Your Apartment Home![/caption] Spring has sprung and it's the perfect time to tidy up our apartment homes. There's a certain sense of satisfaction after a good, deep cleaning, so we thought we'd offer up some quick tips and tricks from the experts on spring cleaning your apartment home. From the expert on all things hearth and home, here are a few basics from Martha Stewart!
Windows are easily cleaned with a squeegee, rather than a newspaper or cloth. According to Martha, "To start, dip a sponge into a bucket of warm water and a few drops of mild dish soap. Wet window; rub dirt away. Dampen squeegee; starting at an upper corner, draw it down pane from top to bottom. Repeat, overlapping strokes and wiping the rubber edge with the sponge after each stroke."
Dust books and shelves. The most arduous part of this task is taking everything off the shelves but once you do that, cleaning is a breeze! To clean properly, Martha advises to, "Wipe the spines of leather-bound books with a clean, soft cloth." Also, don't forget to dust forgotten spaces like ceiling fans and picture frames.
Clean window treatments. These are easy to forget, as they're on the frontline of the dust war, hanging next open windows. Martha advises, "Many draperies and curtains are machine washable; check labels. Dry-clean fabric shades. Wipe wooden blinds with a damp cloth; warm water mixed with a mild dishwashing liquid is safe for metal and vinyl blinds."
Real Simple has some shortcuts for you!
Stock up on cleaning supplies or you might be spreading dirt around to other surfaces with a soiled cloth. Real Simple advises, "Get multi-function supplies: Microfiber cloths (in both regular and eye-glass grade), microfiber mop, non-abrasive cleanser (like Bon Ami or Soft Scrub with bleach), baking soda, white vinegar, vacuum with long-bristle and edger attachment, steam cleaner."
Remove mildew and soap scum from the shower curtain by "throwing it in the washing machine with a few fluffy towels and laundry detergent. Put it in the dryer on low heat for 10 minutes to soften and remove wrinkles" for a spring-clean, fresh look and no scrubbing!"
Clean the mattress and headboard. Knowing the place you rest your head is nice and clean should give you a good night's sleep! "Run a new or clean microfiber cloth over wood headboards, footboards and mattress frames; for upholstered pieces, systematically vacuum with a long-bristle attachment, working from the top-down and paying extra attention to tufted or pleated areas. Then sweep a long-bristle attachment along the sides of the mattress and box spring, focusing on the welting at the edges, where dust can get trapped."
HGTV offers even more tips for ushering in a sparkling spring:
Clean the refrigerator with a mixture of salt and soda water. "The bubbling action of the soda water combines with the abrasive texture of the salt to make a great cleaner."
Clean screens with a scrap of carpeting. That's one we didn't see coming. The carpet material "makes a powerful brush that removes all the dirt" without damaging the screen. Then vacuum up the dust from that cleaning. We know…it never ends!
Air out comforters and blankets after a long winter. We like that idea, but many décor experts prefer to change out their comforter sets with each season for a fresh, new look. At the end of each season, simply store your seasonal comforters in air-tight linen bags and store it until needed.
Tackle lime buildup around faucets. It seems no matter how much one scrubs, lime deposits remain stubborn. Real Simple says, "The best way to get rid of lime buildup around the faucet it is to lay paper towels over the fixture, soak it with vinegar and let it set for an hour. The deposits will soften and become easier to remove."
We hope these spring cleaning tips from the experts have been helpful. Even though all that dust and dirt will eventually return, spring cleaning your apartment home is a great way to welcome in the new season. Happy Spring! -The Weidner Team