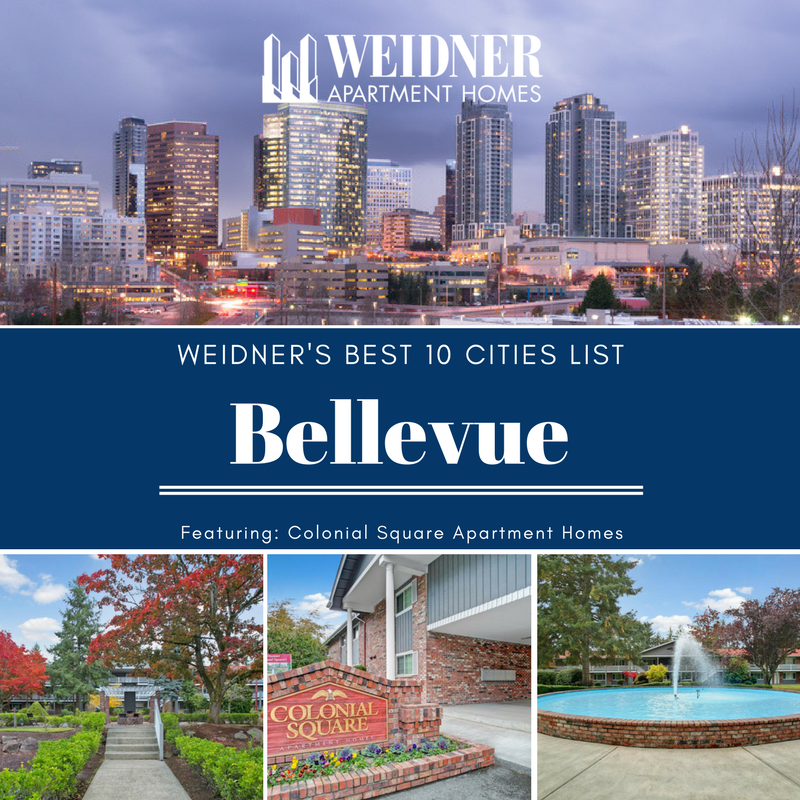 Ranking #4 on the Weidner Best Cities list and #6 on the Livability Best Places to Live list, Bellevue, WA is a suburb of Seattle located between Lake Washington and Lake Sammamish. Nicknamed "City in the Park," Bellevue has more than 2,500 acres of parks and 80 miles of trails. Downtown Park is a local favorite, described as a "21-acre oasis of green in the heart of Bellevue" with a 240-foot wide cascading waterfall and an optimum location for picnics and family outings. Bellevue's park-like atmosphere makes the city easily accessible and is a favorite among cyclists who prefer to bike or walk to work. The city's accessibility, job opportunities, stellar views and booming housing market make it one of the most coveted cities to live in the United States. Bellevue is a festive city, featuring annual festivals including the Wintergrass Festival, Cultural Crossroads Festival, Bellevue Jazz & Blues Festival and the Bellevue Arts Fair.
Things to Do, See, and Taste in Bellevue, WA
Bellevue has an active and diverse arts scene. The Bellevue Arts Museum features works from Northwest artists as well as national and international exhibitions and more than 100 works of public art are on display throughout the city and in Downtown Park. For a more detailed listing of where to enjoy the art scene, pick up the Downtown ArtMap. The KidsQuest Museum is an interactive children's museum that attracts more than 208,000 people per year and features exhibits, programs, and events throughout the year. Chihuly Garden & Glass is rated as one of the top excursions in nearby Seattle, just 7 miles away, featuring exquisite glass exhibits, tours, a glass garden, a bookstore, and dining. Aside from the more than 100 parks, Bellevue is a virtual paradise for outdoor enthusiasts. From the stunning Bellevue Botanical Gardens to the Bellevue Zip Tours, to kayaking down the Mercer Slough, residents enjoy a wide variety of outdoor activities. Shopping and dining opportunities abound in this cultural, picturesque city. Bellevue is a virtual foodie heaven for those who enjoy dining out. Seastar Restaurant & Raw Bar, Black Bottle, Cactus and Mediterranean Kitchen are just a small sampling of the city's dining options. For retail therapy, try The Shops at Bravern, Bellevue Square and Lincoln Square South, which is also adorned with art pieces.
Employment and Education in Bellevue
Bellevue and nearby Seattle are considered one of the most vibrant employment meccas in the nation. Microsoft, Expedia, and T-Mobile make their home in Bellevue as well as Amazon in nearby Seattle. Considered one of the top-rated school districts in the country, "Bellevue School District operates 27 schools for children K-12, including the award-winning International School – a natural fit in a city whose student body collectively speaks more than 50 languages. In 2013 alone, Bellevue's high schools made Newsweek's list of America's Best High Schools, the Washington Post's America's Most Challenging High Schools list, and U.S. News and World Report's Best High Schools list."
Weidner Communities in Bellevue, WA
Weidner Apartment Homes is pleased to offer spacious, stylish, and comfortable apartments for rent in Bellevue, WA and surrounding areas. Whether you are new to the area, or you're looking for a little something extra in apartment living, we're excited to say, "Welcome home!