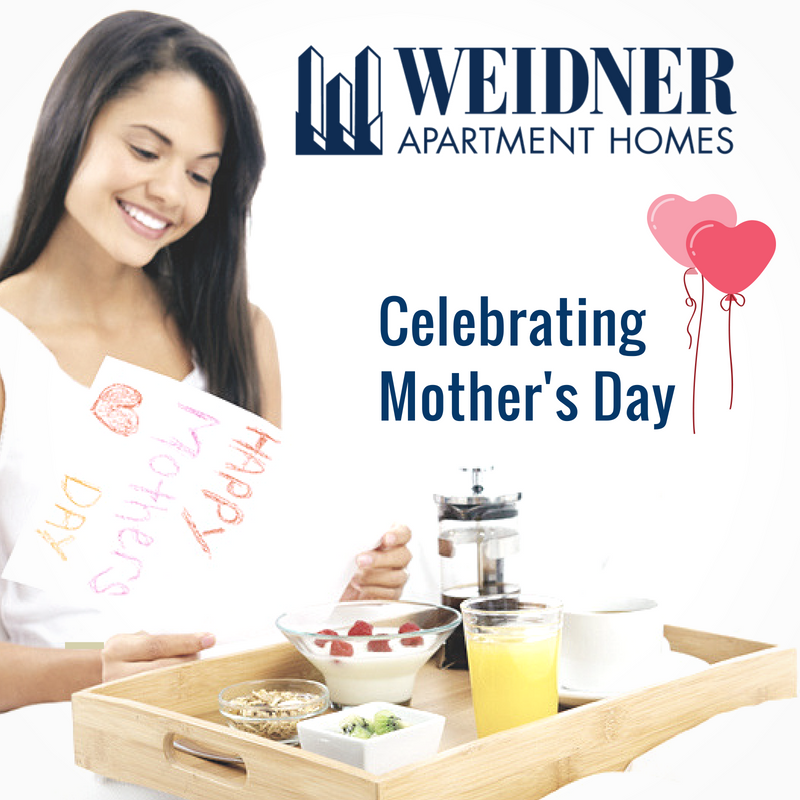 Happy Mother's Day from Weidner Apartment Homes![/caption] Mother's Day is a day where everyone takes the time to honor the mothers in their families. This includes aunts, grandmas, sisters, and any woman that has shared a mom-like role in your life. So, this coming Mother's Day, show off your mom by letting her know how much she means to you. It's a joyous day that is typically spent showering your mothers with gifts, taking her somewhere special, or just celebrating her the best way you know how. If you're like millions of other Americans, you may struggle to think of the perfect gift. Rather than racking your brain to figure out what to get her, we have come up with some festive Mother's Day Ideas you can give a try.
Places to Go, Things to See
There are a number of places you can take your mom to ensure she has a special day! Brunch, Brunch, and More Brunch Take your mother out to a great brunch spot. There are a variety of fantastic restaurants that have great brunch menus, some will even have Mother's Day specials going on that weekend. Your mom will definitely appreciate the gesture. Special Spa Day Allow your mother to be pampered and catered to with a relaxing spa day. Taking your mom to get her nails done, or to get a much-needed massage will make her feel rejuvenated and appreciated. Plus, she'll be in a relaxed and happy mood. It's Showtime! Your mom will absolutely love going to see a show. Look up any concerts, comedy shows, plays, or musicals you know your mom will enjoy. Extra cool points if it's something she's mentioned she's been dying to see.
Great Gifts for Mom
When considering a gift for your mom there are both universal gifts that work, and gifts that are more unique to your mom. Either way, you can't go wrong with showing your mom you care. Universal Gifts Universal gifts are gifts that most moms tend to appreciate, especially if it's coming from you. These are gifts that are perfect if you have a lot of mothers in your family, and you're just not sure what to get them all. They are also a good go to if you're not quite sure what to get your mom. These are gifts like flowers, candy, jewelry, cards, gift cards and a nice gesture like making her breakfast and cleaning the house while she enjoys her meal. Unique Gifts Unique gifts are gifts that are more particular. They are special gifts that may reflect your mom's personal likes and interests. For example, if your mother is into yoga, getting her a membership to a great yoga studio would definitely be thoughtful and it shows that you know what she likes. If your mom is not one to spoil herself, getting her something she has been needing like a new purse or briefcase shows that you know what her needs are and that you pay attention. These kinds of gifts show your mom you care about her interest and that you care about her. The possibilities to celebrate Moms on Mother's Day are endless, but at the end of the day, and every day – simply letting your mom know you love her is the best gift of all. Happy Mother's Day! -The Weidner Team