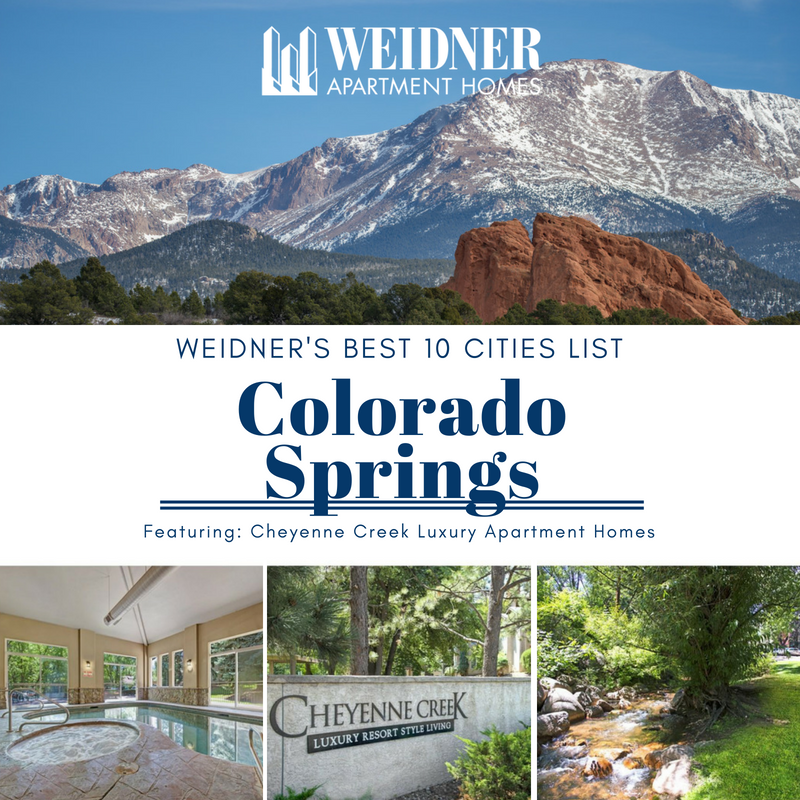 Ranking #3 on the Weidner Best Cities list and #2 on the U.S. News Best Places to Live list, Colorado Springs, CO ranks high on the livability list for its stunning natural landscape, combined with a strong economy, employment opportunities, and great schools. Sitting at an elevation of 6,035 feet, Colorado Springs is at the eastern base of the Rocky Mountains near Pikes Peak, a favorite landmark in Pike National Forest. Garden of the Gods is one of the most photographed and visited parks in the nation, offering front-range climbing, trails, bike, jeep and Segway tours, as well as the simple pleasure of dining and admiring the stunning view of 300-foot sandstone rock formations, against pristine blue skies and the snow-capped Rocky Mountains. Colorado Springs is also home to the United States Olympic Committee Headquarters and the future U.S. Olympic Museum. According to ColoradoSprings.gov, "Athletes and coaches have long recognized the city as the epicenter of the U.S. Olympic and Paralympic Movements. The region boasts incredible natural training grounds, inspirational views and vistas and a commitment to excellence that transcends sports and infuses itself in our educational, medical, technological and cultural assets."
Things to Do, See, and Taste in Colorado Springs
Colorado Springs is a hiker's paradise with trails that rank from easy to moderate, and for the more adventurous – the difficult, as in Manitou Incline. Try this list for a comprehensive guide to the Top 25 Hiking & Biking Trails. Prominent on the list of outdoor excursions is The Broadmoor Seven Falls, boasting seven cascading waterfalls of South Cheyenne Creek. Residents and tourists alike rank The Broadmoor Resort as a top destination for vacationing, dining, and as a starting point for surrounding outdoor excursions in addition to the waterfalls. Colorado Springs offers a diverse arts and culture scene including the World Figure Skating Museum & Hall of Fame, a Pioneer Museum and art galleries such as Gallery 113, which is owned by local artists, Hunter-Wolff Gallery and Gallery of the Rockies. The nearby Space Foundation Discovery Center is an interactive museum designed to further the education of space-based science, technology, engineering, art and mathematics (STEAM) in space exploration. Colorado Springs is also known for its fine and casual dining as well as a vast array of breweries. Phantom Canyon Brewing Company, Bristol Brewing Company, and Rocky Mountain Brewery are all located here. Penrose Room, Uchenna, Marigold Café and Bakery, and Caspian Café Mediterranean all rank high on the list of favorite eateries.
Employment and Education in Colorado Springs
The Colorado Chamber of Education and Commerce states, "Global pioneers in aerospace, cybersecurity, IT and medical innovation are just some of the types of companies that call the Colorado Springs region home, as well as more than 30 Fortune 500 firms and five military installations." Some of these employers include Lockheed Martin Corporation, Progressive Insurance Company, United States Airforce Academy and the University of Colorado. UCCS, Colorado College, and Colorado State University-Pueblo all make their home in Colorado Springs. Weidner Communities in Colorado Springs, CO Weidner Apartment Homes offer many great communities in Colorado Springs. Our featured property of the month, Cheyenne Creek, combines scenic seclusion with all the amenities you've come to expect of modern living. Residents enjoy upgraded appliances, fitness center, heated indoor swimming pool and more! We'd love to help you make this amazing town your new home! -The Weidner Team