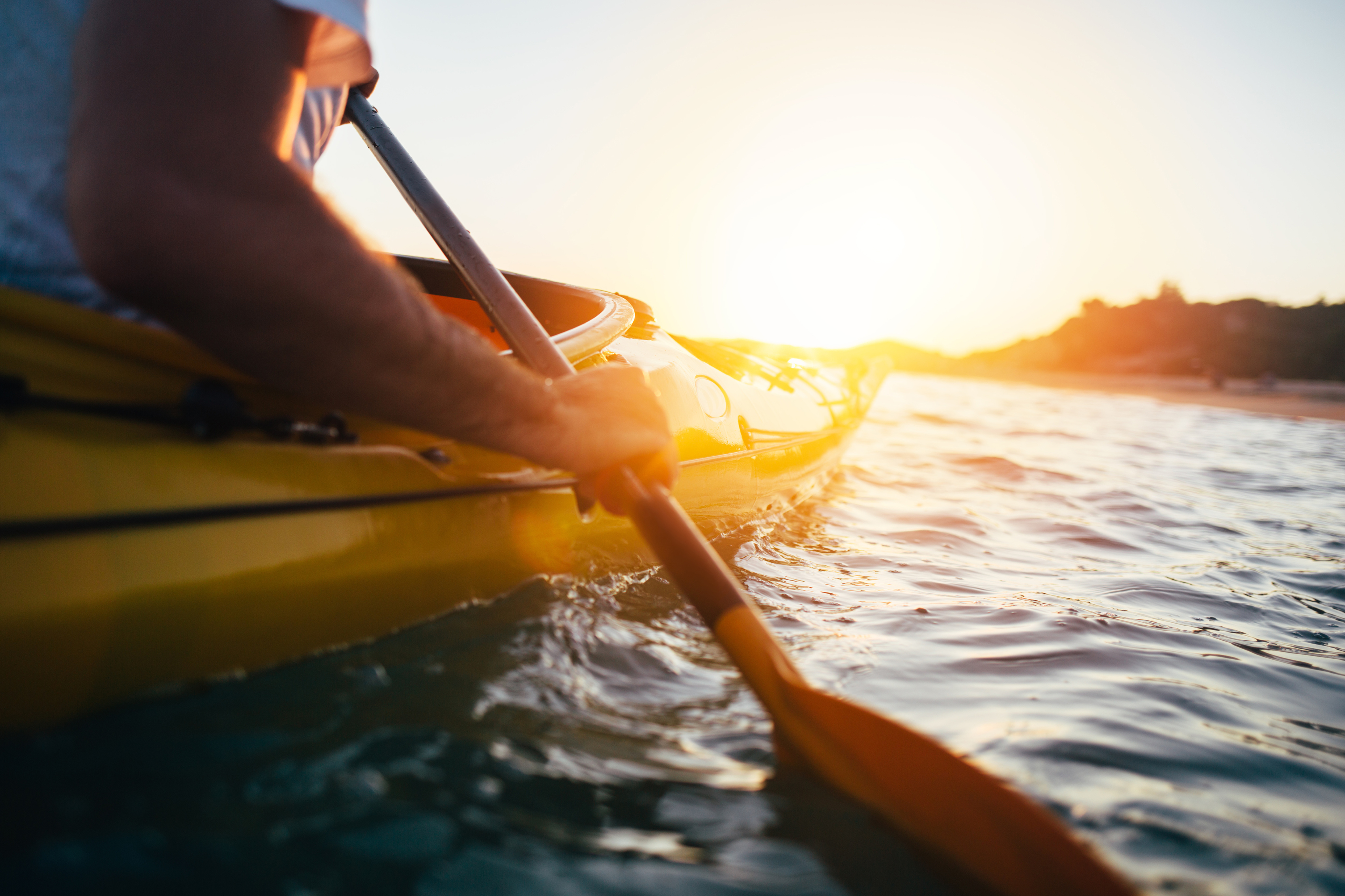 Located near Seattle in the beautiful pacific northwest, Renton, WA was first known as the home base for Boeing. Since then, it has grown to become a major hub city in the heart of the greater Seattle area.
Renton is ideally located with easy access to major roadways including I-405 and I-5 and to public transportation, which makes commuting to work and school easier. Surrounding cities including Seattle, Tacoma, Redmond, Tukwila, Bryn Mawr-Skyway, and Bellevue which are just a few miles away. People who travel also love being so close to the Seattle-Tacoma International Airport.
Today, Renton residents have abundant choices when it comes to discovering incredible dining, shopping and entertainment venues in their own city and in the surrounding region.
Here's a list of 16 fun things to do to inspire you to go out, eat, shop and play in Renton!
OUTDOOR ADVENTURES
Canoeing and Kayaking –

Traveling on the water with a paddle in your hands can be calming or exhilarating depending on your destination, and it's especially fun in the greater Seattle region thanks to the many waterways here. If you prefer to canoe or kayak with gentle paddling, head over to the lower portion of the Cedar River. For a big-water experience, you'll love Shilshole Bay or Lake Washington, which is the second largest freshwater lake in the state. If quick currents are more your speed, set a course down the Green River.
Swimming and Water Play –

Splash, surf, slide and float and at The Henry Moses Aquatic Center. You can also attend various camps, lessons, programs, and special events that combine water-play and fitness. For freshwater swimming, head to the south end of Lake Washington at Gene Coulon Memorial Beach Park or Kennydale Beach Park, where you can also spend the day boating and fishing.
Hiking and Biking –

Whether you're trekking on foot or cruising along on your bike, you've got a wealth of options when it comes to great trail systems. If you're seeking a casual stroll alongside the water or a complete workout, check out Cedar River Trail Park which offers a variety of trails of varying difficulty. For a pleasant hike along well- marked and maintained trails, try the Coal Creek Trail where you can see a picturesque waterfall. For a more challenging experience, opt for Red Town Meadow and Trails.
Birdwatching –

Grab your binoculars to see over 150 captivating winged species in the beautiful parks and wildlife protection areas that surround Renton. You'll have the best luck at locations like West Point and Richmond Beach Park for diving loons, and Lake Washington for Bonaparte's Gull, the only gull to nest in trees. Look for flocks of Lesser Yellowlegs in saltwater marshes and wetland areas, while you may see the Golden-crowned Sparrow at your own backyard feeder. Also keep your eye out for a Wilson's Warbler that may stop for a rest on the way from the boreal forest where it was born to warmer climes south of our continent. Drive a little farther to Bowerman Basin on Grays Harbor near Aberdeen where you may see as many as 2 million birds gathering there in the spring.
Golfing –

Tee off at the elegant Maplewood Golf Course and try for a hole-in-one while playing a par 72 course that's fun and challenging for golfers of all skill levels, and was voted "Best Public Golf Course" four years in a row from the "Reader's Choice Award" of the South County Journal. Afterwards you can visit the well-stocked pro shop, or dine and enjoy libations and live music at The River Rock Grill.
Photography –

Capture the outdoor beauty of our numerous beautiful water views, ever-changing skies, scenic overlooks and picturesque flora and fauna. For botanical photography, visit the Kubota Garden. Waterfall pics? Where else but the Waterfall Garden? Also, hit the parks in the area including Clark Lake Park for some rustic photos, Pine Lake Park with towering conifers, and Hamilton Viewpoint Park to get some awesome Seattle skyline shots.
Playing Outside –

Visit Gene Coulon Memorial Beach Park on the shores of Lake Washington to discover 57 acres of land and water along the Lake Washington shoreline. This park offers recreational opportunities galore including a boat-launch, paved walking trails, tennis and volleyball courts, a playground, horseshoe pits, a fishing pier, summer swimming area, and well as two restaurants: Kidd Valley and Ivar's Seafood Bar.
INDOOR ENTERTAINMENT
Art –

Check out the Renton Art & Glass Studio and Gallery with classes and "blow your own" sessions, as well as fusing classes and group events. Burgeoning artists can also take art classes at Squak Art Studio in nearby Issaquah with weekly classes for all experience levels. For those who appreciate the work of other artists, visit the and the memorable Museum of Glass in Tacoma with captivating sculptures, live glassblowing demonstrations and the Chihuly Bridge of Glass that links the museum to downtown Tacoma. Or, of course, you can always visit the world-famous Seattle Art Museum as well as the Seattle Asian Art Museum, and Olympic Sculpture Parkand many more galleries in Seattle.
Bowling –

For a modern bowling alley with upscale private lanes, billiards, and a restaurant and bar, check out Bowlero South Seattle in Tukwila. For a more classic experience, try for a strike or that elusive Turkey at Skyway Park Bowl in Bryn Mawr-Skyway with traditional lanes, well-loved bowling eats and league-style comradery.
Escape Room –

Work together with your team at The Cryptic Cube in Bellevue to uncover clues, figure out puzzles and solve mysteries to find the key to escape. This immersive escape-room experience centers around various themes and is played in an enclosed space where a group's diverse problem-solving skills combine to help them break out to freedom.
Indoor Skydiving –

If you're looking for a thrill to "blow you away", head over to iFly to take flight in an indoor skydiving wind tunnel. To kick the experience up a few notches, book a Virtual Reality Experience for a fully immersive experience where you'll feel like you're skydiving over tropical Hawaii, sun-soaked Dubai or the majestic Swiss Alps.
Movies –

Grab some hot buttered popcorn and a refreshing beverage, then have a seat to catch the latest blockbuster at the Regal Theater at The Landing in Renton with first-run Hollywood films, from kids' features and comedies to dramas and action movies. For a more classic, art-house theater experience, Seattle offers several options including the Grand Illusion Cinema, SIFF Theater Uptown, and the intimate Majestic Bay Theatre.
MORE FUN AROUND RENTON
Shopping –

You'll live just minutes away from amazing shopping experiences at The Landing and at the Westfield Southcenter Mall where you'll find all your favorite brands as well as charming boutique shops and much more. In the summers, you can buy fresh produce at the Farmers Market in the Piazza and for big-city shopping, just head over to downtown Seattle just a few miles away to delight in the high-end window displays and shop 'til you drop.
Dining –

You'll be amazed at the pleasing variety of dining options in and around Renton. For example, you can grab breakfast and a cup of joe at the Liberty Café, have a casual lunch at the Melrose Grill, and enjoy European-style dining at Peyrassol Café. And that barely touches the surface. From fast-food to sumptuous fine dining and everything in between, there's something for everyone's palate when it comes to quality restaurants on the Eastside of the greater Seattle area.
Festivals –

Every year, you can count on Renton to hold entertaining festivals like River Renton Days in July, the Renton Bloody Mary Festival in January, and the big Harvest Fest in October. There are also many fun and entertaining events to attend throughout the year, both in Renton and in the surrounding areas. You'll never lack opportunities for fun things to do on your free evenings and weekends.
Sports –

Die-hard fans love attending pre-season Seattle Seahawks workout sessions at the Virginia Mason Athletic Center in Renton. And, of course, during football season, they head over to CenturyLink Field to watch the Seahawks play, and, in the spring and summer, over to T-Mobile Park in Seattle to see the Mariners vie for the World Series.
What's your favorite fun thing to do in Renton? Share your ideas with us the comments section below.
As you can see from the expansive list above, there are tons of fun things to do in the Renton area. If you're moving to Washington or just across town and need an elegantly-designed, pet-friendly apartment in Renton with professional onsite management and amazing amenities, contact us today at Regency Woods Apartment Homes. We're here to schedule your personal tour at your convenience and help you find the perfect place to call home.