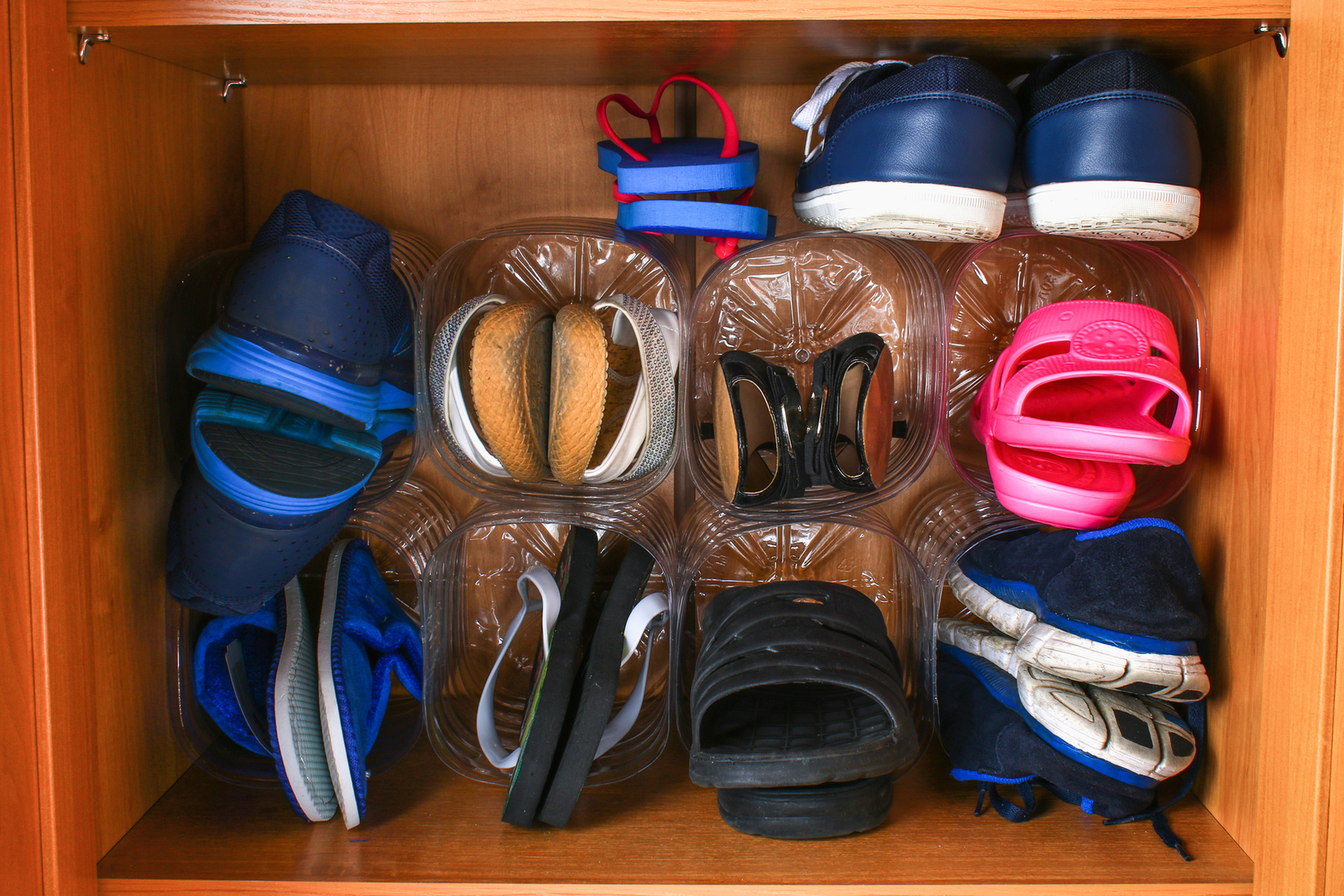 As life progresses, sometimes we look around and suddenly realize we've accumulated kind of a lot of stuff: clothes, supplies, trinkets, memorabilia… you get the idea. If you find yourself in this predicament, no need to worry – there are some very clever modern-day storage hacks you can employ to help you keep and organize everything you want and need to live a carefree, clutter-free life in your wonderful apartment.

Stake a claim on the vast area under your bed. Your bed takes up a lot of space, and there's plenty of available storage space underneath it. Don't just throw your slippers and yoga mat under there. Instead, use flat containers that you can easily slide in and out. You can keep anything in there, and covering the bins with lids will keep your belongings dust-free. If your bed is sitting on the floor, you can purchase these handy bed risers to give it a lift and begin using that space.

Invest in some shoe organizers. You can do a lot with hanging shoe organizers. Besides using them for shoes, clothes and accessories, you can also use shoe organizers elsewhere in your apartment. In the kitchen, try hanging one inside your pantry to store condiments, kitchenware, or cleaning supplies. Put another in your bathroom for hair products, toiletries and even washcloths and hand towels. Use your imagination – the possibilities are endless.

Fall in love with rolling cabinets. Since they come in all shapes and sizes, rolling cabinets can be a game-changer when it comes to clever storage options. Store them in plain sight in your kitchen to store plates and dishes, or next to your bed where they can double up as a night table. Tuck them away inside your closet and use them for socks, belts, accessories and more. Rolling carts can provide the perfect combination of decor and practicality, all in one.

Maximize your closet. Other than shoe organizers and extra cabinets, another way to create more storage space in your apartment is by using hooks and hangers on racks. For example, a fun and easy trick is hanging a hook and a chain from the closet rack to help you keep your shirts in line. Get creative and organize them by color, fabric type, season, sleeve-length or whatever method you like best.

Buy furniture that multi-tasks. In this case, it might be smart to think "inside the box" for a change. For example, use a double-wide ottoman with a hinged lid as a toy box or to store your extra throws and pillows. Choose a coffee table with shelves and drawers where you can store magazines and table games out of sight. Select a corner storage cabinet with doors to hide unsightly paperwork, office supplies and more.
As you can see from just the short list above, there are plenty of attractive and crafty ways to store your favorite things to keep your apartment clutter-free. Do you have any other hidden storage ideas? We'd love to hear them at #LifeAtWeidner