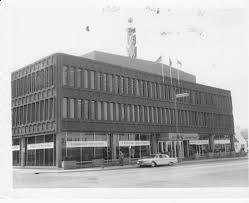 In one of the biggest multifamily housing projects in Uptown, Ryan Cos. US Inc. and Weidner Apartment Homes recently completed the redevelopment of the previous Sons of Norway building in Minneapolis, MN into the Daymark Uptown Apartment Homes community with hundreds of apartments, a built-in "fjord" and an ice-skating rink as a nod to the Norwegian history of the building.
Who Are the Sons of Norway?
The building was originally built on the site in 1962 by the Minneapolis-based fraternal organization Sons of Norway, they opened their gleaming new international headquarters and cultural center at 1455 West Lake Street in South Minneapolis that spring. Since then, the building had stood as a landmark to Nordic heritage for more than 50 years until the organization sold it for development.
The Sons of Norway got its start in 1895 when 18 Norwegian immigrants pooled their resources to protect members and families from financial hardships experienced during times of sickness or death in the family. The organization grew into a social club that also offers insurance and annuity products. Over time, the mission of Sons of Norway expanded to include the preservation of Norwegian heritage and culture. The organization has grown significantly since its inception and is now the largest Norwegian organization outside Norway with 50,000 members in nearly 300 lodges in the United States, Norway and Canada.
Upon completion of the new Daymark Uptown complex, the Sons of Norway recently moved back into the building, which still serves as its beautiful International Headquarters, in time to celebrate the organization's 125th anniversary.
The Redevelopment Project
Our new, stunning Daymark Uptown Apartment Homes has replaced the aged Sons of Norway's three-story headquarters with modern architecture designed to blend with the existing neighborhood look and feel.
Builders embraced the site's Norwegian history by incorporating part of the new development with a 30' tall steeple structure with a cupola that suggests Scandinavian architecture. The design includes two structures connected via a five-story glass walkway called "The Fjord" that also leads to a pocket park. Now this tower is quickly becoming an iconic local landmark, visible from many spots including from down Lake Street, across Bde Maka Ska Lake, and from Kenwood across Lake of the Isles.
The completed community now offers over 300 apartment units, office space and light retail space.
Sitting on the corner of Humboldt and Lake Streets, Daymark's location is ideal, near the "Heart of Uptown" which is one of the most transit-rich and walkable communities in Minnesota. There are multiple grocery stores nearby, as well as restaurants, bars, parks, the Chain of Lakes, Midtown Greenway, and other desirable amenities.
Daymark Uptown – An Achievement to Be Proud Of
Now that it's complete, Daymark's leasing team is accepting applications and leasing up this modern apartment community, with floor plans ranging from microunits to penthouse suites and everything in between. Visit their website to see this beautiful development, born from and true to the Norwegian roots that started it all.