Decluttering and pairing down the items in your apartment can feel like an endless task. However, the aftermath results in a serene and pleasant living space. Below are tips to help you clean, minimize, and organize your apartment to create a more relaxing and enjoyable atmosphere!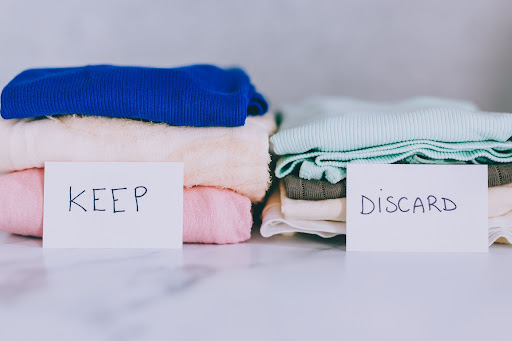 The Significance of Decluttering
If you've looked into living a minimalist lifestyle, then you've heard of Marie Kondo and her phenomenal mission to help others declutter their homes. Her famous motto, "ask yourself if every belonging in your possession sparks joy," is incredibly effective and enables you to identify unnecessary items. Once you recognize the pieces in your apartment that no longer have a purpose, put them aside in a pile for donation. Continue throughout your apartment until the selected items are set aside and ready to bring someone else joy.
Decluttering Methods
Because downsizing your belongings can become overwhelming, we recommend implementing different methods to complete the task. When you set your mind to accomplishing this goal, the best way to begin is to work in separate sections. While decluttering, it is natural to get sidetracked and work on other house projects. For example, you may be less productive if you're organizing several rooms at once because your attention is split between both areas. We suggest starting small and with one room at a time. If you plan to take on your bedroom first, stay there until you've completed the job. A different method that spans over multiple days is the thirty for thirty: get rid of 30 things in 30 days. In a nutshell, you remove one item a day for thirty days and see how far you have come and how much space you have acquired after the process.
Choose whichever method suits your preference and feels most manageable. Creating less strain and less cleaning is a significant perk when decluttering your apartment. Once everything is clean and each item in your home has a spot and purpose, you will begin to realize how much easier it is to find what you need. In no time, your home will become tidy, and you will feel accomplished.
Minimizing the clutter is more than removing items from your apartment. It's regaining control over your space, staying organized, and creating a peaceful atmosphere at home. Luckily, Weidner Apartment Homes offers an array of communities with vast and open floor plans to ensure a place for all of your valuable possessions. If you're ready to declutter your apartment, we wish you the best of luck! Once you've completed the task, you'll feel lighter and renewed in your immaculate space.