For those on the hunt for a reasonably priced apartment to rent in Edmonton, AB, you should know that the area's many apartment communities have excellent floor plans, amenities and are well-managed without exceeding many renter's budgets. We know that moving can be stressful on the finances, so we've put together a list of tips and tricks on finding a budget-friendly apartment in Edmonton.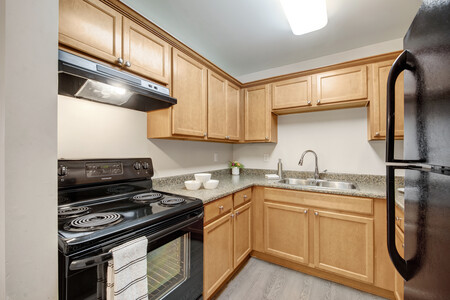 1. Find a Roommate
Getting a roommate is an easy solution to cut costs on apartment living. Dividing the expenses of an apartment in half means you will spend significantly less money on your rent and utilities.
In doing so, this not only saves you money but, in turn, leaves a cushion in your budget to allow you to pursue your passions, explore new hobbies, and travel. Since rent should be around 30% of our monthly income, sharing this cost with a roommate opens the door for more freedom in other ways, like having a built-in house-sitter when you're out of town!
There are many safe and effective ways to find a roommate. Whether you have someone in mind or plan to use a roommate finding service, do your due diligence, ask the right questions, and make sure it's a comfortable situation. The most important quality to look for in a roommate is reliability. Typically, they will be a good fit if they are trustworthy and you think they will pay their rent on time.

2. Opt for a Small One-Bedroom
If you want to start small and grow from there, a studio or one-bedroom is an excellent option. These floor plans can range in size but typically start at around 500 square feet. The rent is usually less than larger one-bedroom options in the same community, allowing you to live where you want without blowing your budget.
Tricks to making tighter spaces feel bigger are by getting creative with decor and furniture arrangements. Area rugs can make rooms appear larger, mirrors catch more natural light, and selecting pieces that match the wall color will blend your furniture into the space.

3. Understand Your Financial Situation
Before you begin touring apartments, be sure to assess your financial situation and make sure you are confident in your housing budget. A detailed expense plan is a great resource to rely on while looking for apartments because it will guide you to homes within your price range and help you avoid the ones outside of it.
Budgets also provide information to help you make data-driven decisions about where you may need to cut back on monthly expenses to afford a higher rent if necessary.

4. Be Open to Compromise
An essential step to choosing the right place is determining the difference between your 'needs' and 'wants.' Sure, the upgraded apartment with granite countertops, new flooring, and walk-in closets would be a fantastic place to live, but are these amenities a necessity? It's important to have a realistic expectation for your home to remain financially responsible.
If you're open to compromising on amenities and upgrades, you'll have a much easier and stress-free experience finding apartments for rent that fit your needs and keep your wallet full.

5. Cut Cost on Utilities
Try to avoid running the heater or AC all day. In the summer, open the windows for fresh air and invest in some high-power fans to get the air flowing through your home and avoid turning on the AC. In the winter, bundle up! Layer up with sweaters and blankets to stay warm and cozy and give the heater a rest. It may seem small, but these little steps can cut your electricity bill drastically in both seasons.
If you're shopping for an apartment in Edmonton, be sure to explore Wyndham Crossing Apartment Homes. Not only do we offer well-kept one, two, and three-bedroom options that will exceed your expectations, but our layouts make us a budget-friendly community. Our floor plans are spacious enough that if you do decide to live with a roommate, you'll both have more than enough room to live together comfortably.
If you're interested in moving to Edmonton, AB, contact us today! Our professional team would be happy to schedule you a virtual or in-person tour, answer your questions, and show you around the neighborhood! We look forward to helping you find your new home in Edmonton, AB, at Wyndham Crossing Apartment Homes!