When was the last time you cleaned and organized your closet?
Setting aside a day to go through the shoes you don't wear anymore, the clothes that have become worn, and anything else that may have piled up in your closet is a great, relatively simple task that will improve your daily routine. Plus, the beginning of a new season is a great time to assess your habits and identify areas you may want to alter or improve. To avoid overwhelming yourself, it's best to approach this process step-by-step and start small.
Here are 5 great tips to declutter your closet like a pro!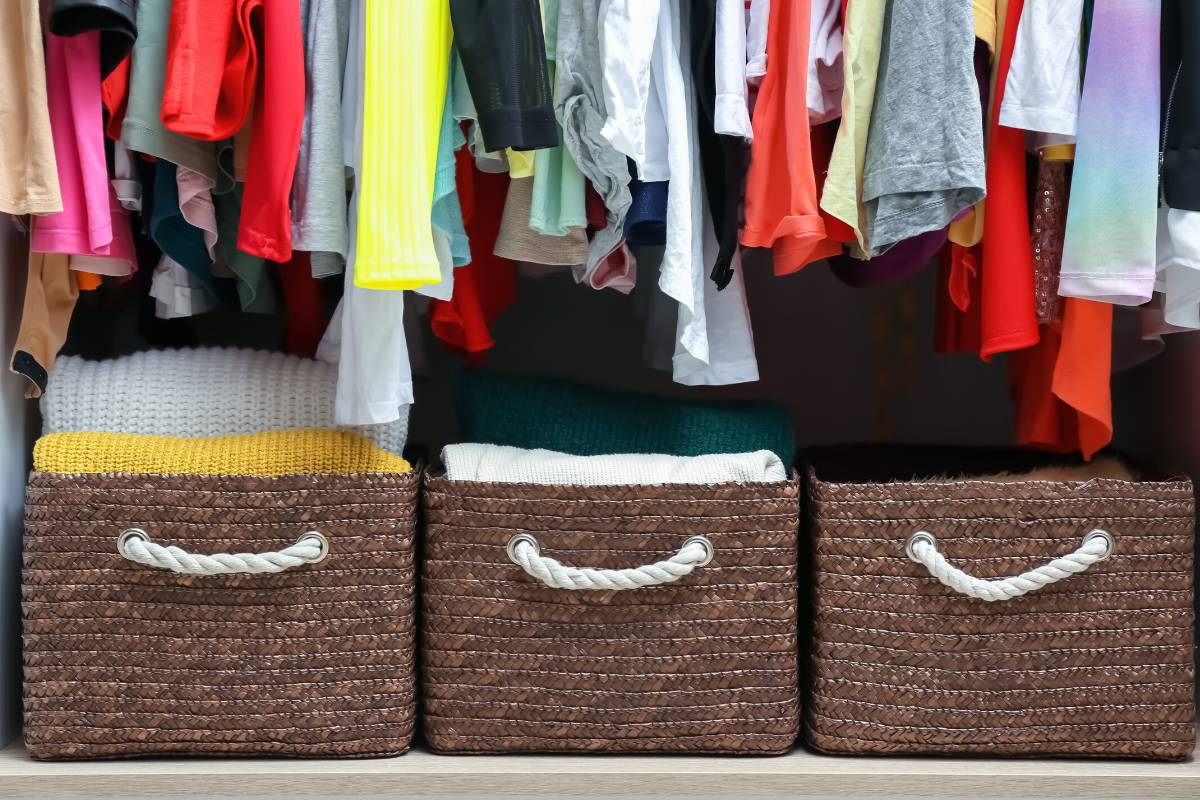 Grab a donation box and trash bag before you start.
While you clean and organize, you are sure to come across articles of clothing that you don't want to keep. If they are still in good condition, donate them to a local shelter or thrift store. If the items are a bit tattered or worn, you should probably throw them away. You can also repurpose some articles of clothing to use as rags for cleaning or patches for craft projects!
Having a donation box and trash bag with you before you start will motivate you to use them, and you won't have to navigate around piles of clothes on the floor!
Pull everything out of your closet to begin.
If you want to declutter your closet fully, it's best to go through everything you have. Rifling through your closet without pulling the items out to assess their worth can result in an incomplete clean-out. Without inspecting everything, getting a true account of what you want to keep will be difficult because some things won't stand out enough for you to add to your donation box or trash bin.
Be intentional about where you place your 'keep' items
Once you have filtered out everything you are not keeping, figure out an organization system for the remaining items that work best for you. Maybe you like to keep things simple and prefer to organize your clothing by type, or maybe you want to create an organizational aesthetic and decide to organize by color.
Whichever organization method is the most effective for you is the best one to implement. When you're done, you'll notice a huge difference in the time it will save you the next time you're getting ready.
Maximize your space
If you have a lot of clothes but not a lot of square footage in your bedroom, set a dresser in your closet under your hanging items. If your dresser fits in your closet, this could be a great space-saving option for you!
If your closet has shelves, you could place your shoes, accessories, or baskets full of your socks and other garments in them. If you don't have shelving in your closet, consider purchasing hanging shelves for these items instead. You'll be amazed at how much you can cut down on clutter with the proper amount of space to store your belongings!
Vacuum seal your out-of-season clothes.
We all have seasonal clothes like thick sweaters, scarves, and gloves that we don't use year-round. A great way to keep your closet organized and not jam-packed is to vacuum-seal those seasonal clothes together until you need them next year. This way, you don't have to worry about misplacing any fall or winter favorites during the warm months!
Keep it up!
Now that your closet has been decluttered and organized, all you need to do is keep it that way. Try doing a weekly sweep of misplaced things that need to be hung up, etc., so it will be a quick refresh rather than a complete redo each time!
We hope you benefit from these tips as much as we have and that your closet is organized to improve your daily life. And remember, if you find your closet full of clothes you are no longer wearing, or it's just not as functional as it used to be, you can come back to this post and redo your closet again!