Are you exploring Leavenworth, Washington, as a future home?
We must say — you've got great taste! Leavenworth is a picturesque village with a unique Bavarian touch and offers everything from festivals, art, museums, and scenic views of majestic mountains and a sparkling river. Leavenworth provides all four seasons and truly offers something for everyone. Residents and guests alike speak volumes about the unmatched experience of visiting this unique town in the Washington Alps!
People from around the world visit Leavenworth, but it's also home to nearly 2,100 people. Many residents are homeowners, but Leavenworth's best-kept secret is its apartment communities.
Let's dive into what you should expect when looking at rentals in Leavenworth.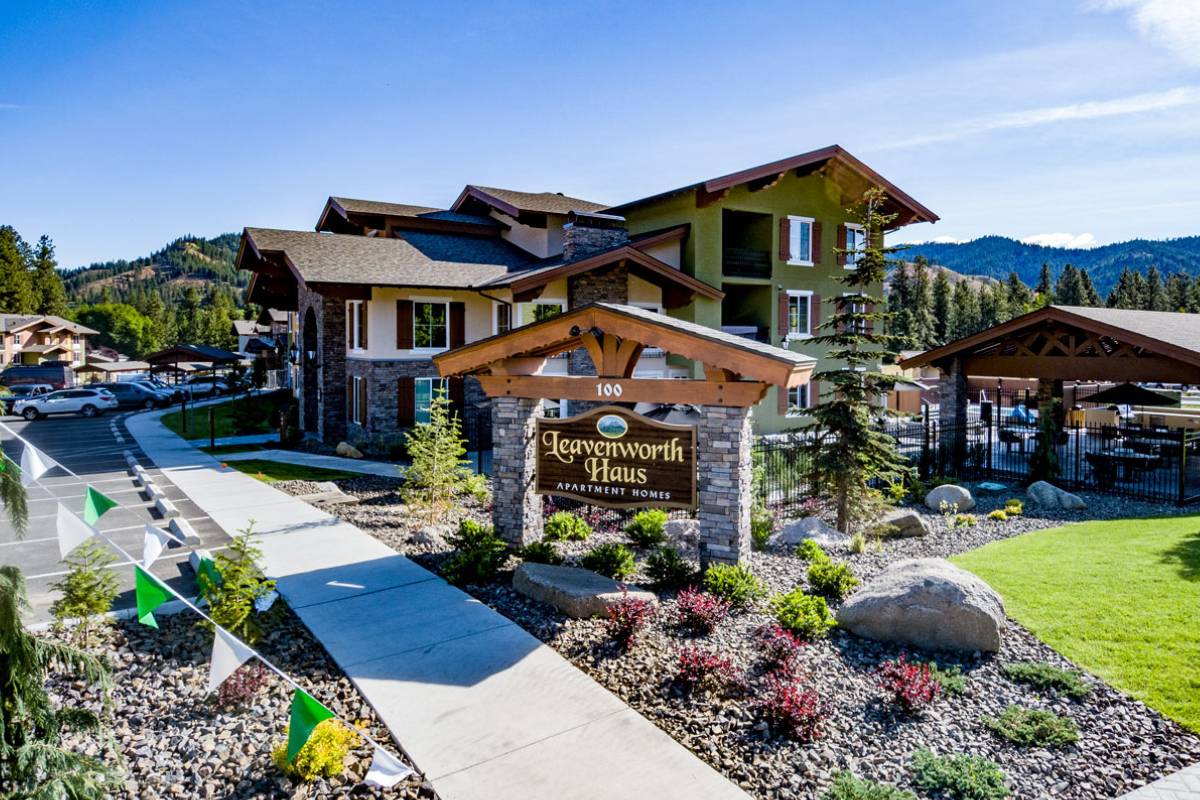 Upscale Apartment Homes and Amenities
Enjoying the finer things in life is encouraged in Leavenworth, and the same runs true for the atmosphere in the apartment communities. During your apartment hunt, you will encounter upgraded and brand-new communities and homes. Your excitement will soar as you discover some of the features these apartments offer! Additional perks will typically include:
Glamorous kitchens with upscale countertops (often granite), energy-efficient and stainless-steel appliances, and custom cabinetry.
Polished finishes, including designer light fixtures, bathroom hardware, and large closets with custom shelving.
Sleek flooring, which is often a blend of unique tiling, upgraded carpet, and hardwood-style flooring.
Pet-friendly communities usually feature upgraded pet amenities like fenced-in yards, private dog parks, and walking trails.
Other experiences that you may find different in Leavenworth apartments are the on-site leasing staff and customer service teams. Apartment managers genuinely strive to ensure their tenants are happy and well taken care of. The service teams at the apartment communities in this town are second to none.

Centrally Located Apartment Communities
As a renter at one of Leavenworth's supreme apartment communities, you will live in a place that allows you to embrace all the beautiful things that this town has to offer. From the views, quick travel to the tourist hot spots (and some lesser-known spots, too), and immersing yourself in the Bavarian culture, you'll never grow tired of this Pacific Northwest gem. There are so many things to look forward to when you live here year-round, as you'll have more opportunities for new experiences as a resident instead of a visitor!
The downtown area of Leavenworth is something special. There are dozens of alpine-style buildings filled with restaurants, shops, art, and culture to immerse yourself in. There's always an art gallery or a show to enjoy at the Snowy Owl Theater, wine tours to indulge in, and some incredible museums to explore, like the Nutcracker Museum with over 7,000 nutcrackers on display.

Leavenworth Community Demographics
For many locals, renting an apartment is a more affordable option than purchasing a home. In Leavenworth, the median rental cost in recent years has been $876 per month, and the median single-family home value is $355,600. Luckily, the apartment communities in Leavenworth are 5-star places to call home.
94% of Leavenworth residents are native-born to the town. Relocating here would provide you with a wonderful community of local families, small businesses, and career-oriented folks. Not only would you gain a built-in family of community members who can guide you through settling in, but also a network of long-lasting friendships.

Ready to Relocate?
During your search for the perfect apartment community in Leavenworth, be sure to add Leavenworth Haus Apartment Homes to the top of your list!
Our floor plans include studio, one, and two bedroom luxury apartments with open-concept layouts, built-in closet storage, and garage parking options. We're located close to downtown Leavenworth and offer easy access to Highway 2, providing a quick drive to many of the town's popular trailheads and neighboring cities.
If you're unable to visit here before finding the right apartment, don't worry! We offer personal, virtual tours every day with a knowledgeable leasing professional. Contact us to schedule your tour today!