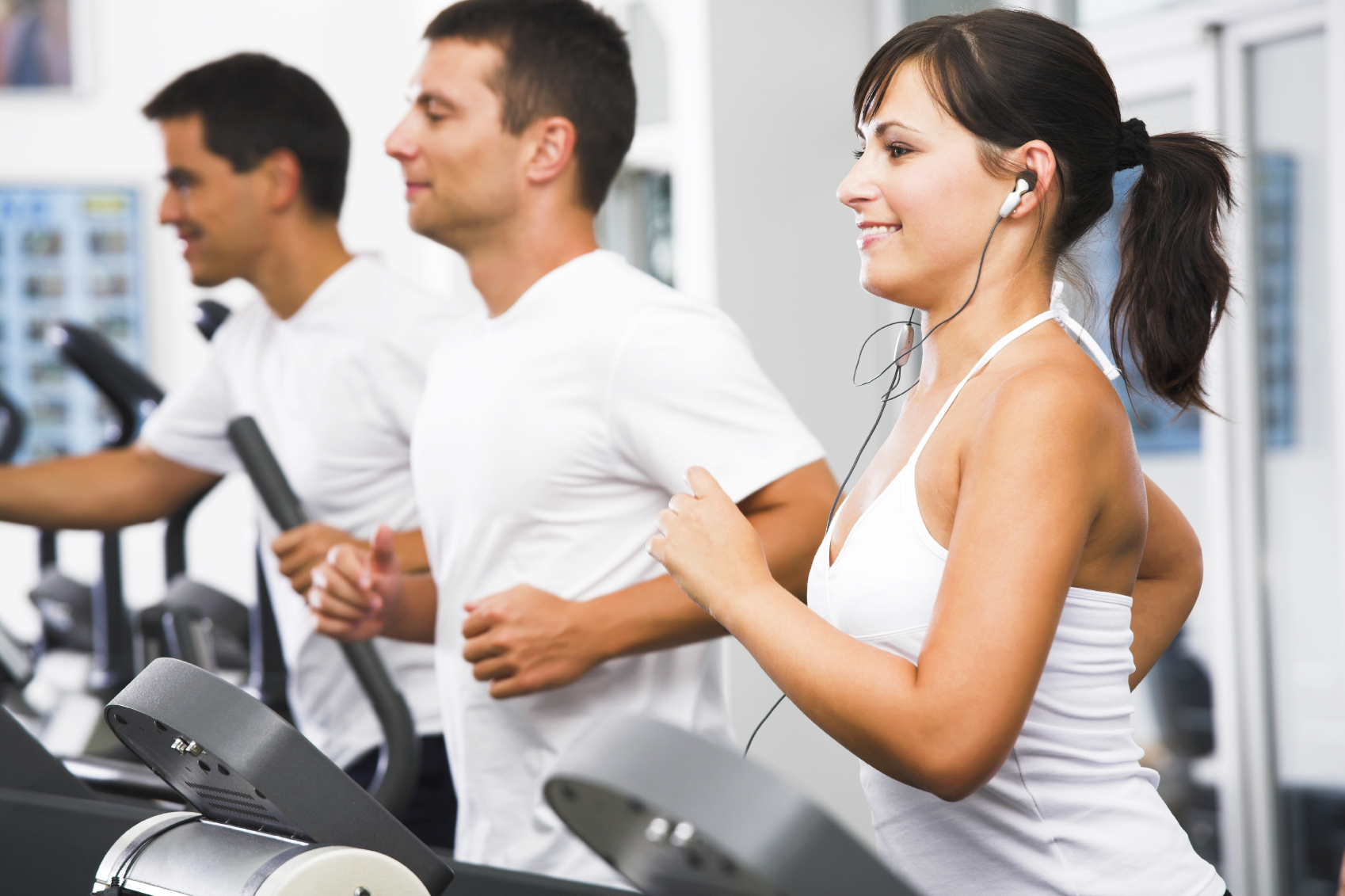 If having a fitness centre at your apartment community is important to you, you're not alone. In fact, the majority of renters consider community fitness centres one of their top-five community amenities.

Henry Ying, community director at Ranchlands Apartment Homes in Grand Prairie, says the sizeable fitness centre is one of the first things his prospective residents want to see. "They're blown away when they check it out in person," he said, adding "I mean, who can blame them? It's a huge 15,000 square-foot recreational facility!" Besides the spacious weight & cardio fitness room, it also features two squash courts, and a year-round heated indoor swimming pool, including a hot tub and dry sauna.

Advantages of an apartment fitness centre
There are several benefits to having a robust fitness centre right in your own apartment community:
Save money – When access to the fitness centre is included in the price of your rent, you can say goodbye to costly gym membership fees. Either save the money, or, if you add up all the cash you save, at the end of the year, why not treat yourself? Choose something you've always wanted like new clothes, a fun trip, or the latest electronic gadget you've been dreaming about.
Avoid boredom – When you have multiple fitness activities available to choose from, you can change up your routine to keep things fresh while you cross train for optimal health.
Adjust workout to your level – Whether you're a beginner, a fitness fanatic, or somewhere in between, you can scale the workout to your level of fitness.
Enjoy the convenience – How many times have you belonged to a gym but couldn't get there as much as you wanted to? This is especially true with our sometimes brutal weather. Your apartment fitness centre is open 24 hours a day and is located just steps from your front door. When it's easier to go more consistently, you can work more regularly and watch your fitness level steadily improve.

9 ways to get the most out of your apartment fitness centre
Start Slowly – Before beginning any fitness routine, it's wise to check with your doctor to make sure you're cleared to start. Once you get going, most experts agree that it's important to begin every workout with some stretches and a little light cardio for a few minutes because it prepares the heart and lungs, giving them a chance to warm up.
Use your own body for resistance – When you first embark on a fitness routine, consider skipping the equipment altogether and just using your own body weight as resistance. By doing a few sets of lunges, squats, and burpees, you'll simultaneously burn calories and begin to strengthen your muscles.
Focus on your core – Your core is the centre of your body and it's where much of your power comes from when you exercise. Your abs are one muscle group that's easy to strengthen by doing crunches, bicycle kicks, and planks, and it may just result in an enviable six-pack.
Strengthen your heart with cardio – According to doctors, regular cardio workouts can "improve the flow of oxygen throughout your body, strengthen your heart and blood vessels, lower your blood pressure and cholesterol, and reduce your risk for heart disease, diabetes, Alzheimer's disease, stroke, and some kinds of cancer."
Build muscle and gain strength with weights – Regular strength training can be as important as cardio exercise when it comes to losing fat and getting fit. As you lift weights, you're building lean muscle tissue, which helps increase metabolism and that helps your body burn more calories throughout the day. Also, one of the best ways you can control bone loss as you age is to add strength training into your workout plan because it improves bone density.
Go for a swim – If you love the benefits of a cardio workout, but aren't a fan of working up a sweat, try swimming. You can also include swimming in a multifaceted fitness routine. It's fun and it's much easier on your joints and muscles than running. Regular swimmers benefit because this form of exercise targets their arms, legs, core, glutes and back muscles.
Squash it on the court – Squash, an indoor racquet sport, is played by two or four players in a four-walled court with a small rubber ball. It's easy to learn and there are modified games and equipment to suit every size and skill level. It can be a high-energy, fast-moving sport where players get an excellent cardiovascular workout.
Use the buddy system – If you're struggling with your motivation, one of the smartest moves you can make is to get a workout buddy. Even if you like to work out on your own, sometimes working out with the right partner can help keep you accountable and motivate you to tap into those extra reserves of strength and energy to get through those final reps.
Track your progress – One of the best ways to keep yourself motivated is by measuring your own fitness. "Some of our residents keep track of everything they do here, and enjoy the journey as they get more fit," said Ying. Look online for an app to help you plan and record your workouts and track your progress.

Are you a fitness junkie? Share some of your favorite apartment fitness center workout routines or tips with us.

If you're looking for an apartment community with a top-level recreation centre in a safe and quiet neighbourhood on the peaceful south side of Grand Prairie that's close to schools, shopping and entertainment, contact us at Ranchlands Apartment Homes today. We'd love to schedule your personal tour and help you find your perfect new apartment home!