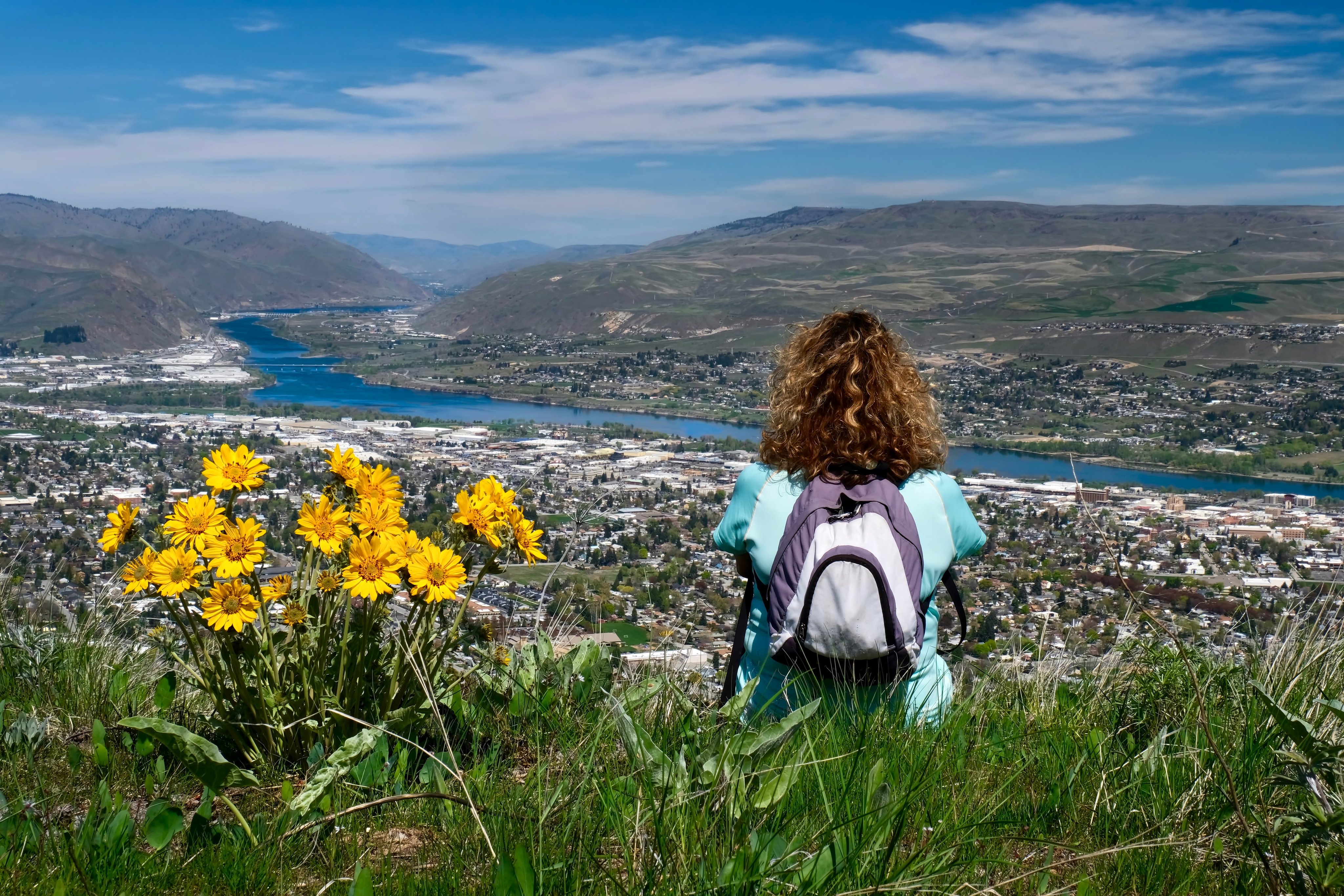 Wenatchee always lands on the list of "Best Places to Live in Washington". From the beautiful seasons, to the charming neighborhoods and vibrant art and culture scene, Wenatchee is simply a great place to live.

If you're looking for the perfect place to work, raise a family, start a business, or enjoy your retirement, Wenatchee is the place to do it. There are hundreds of reasons to love living in Wenatchee, but we've narrowed it down to the Top 10:
Beautiful Parks and Playgrounds – Wenatchee has over 20 local and state parks to explore. Ohme Gardens is a beautiful and tranquil place to enjoy the outdoors. Discover the nine-acre garden featuring serene waterfalls and panoramic views of the Columbia River. Visit Riverfront Park and Wenatchee Confluence State Park, both popular places for hiking, nature photography, biking, camping, and exploring. If you're a nature lover, you'll love being just minutes from a wide variety of parks, playgrounds, and nature centers.
Outdoor Recreation – Along with the many public parks, playgrounds, hiking trails, and nature centers, Wetachee offers an abundance of outdoor recreational activities. Whether you love to fish, camp, golf, kayak, swim, hunt, or ski, you can find the perfect place to indulge in your passion for being active outdoors in and around Wenatchee.
Winter Wonderland – When temps drop and the snow starts to fall, Wenatchee turns into a sparkling winter playground. Kids here often start ice skating and playing hockey as soon as they can walk, and families go cross-country skiing, ski touring, snowshoeing, or hiking on the snowy hills of Twin Peaks.
Arts and Culture – Wenatchee, established in 1893, has a rich and vibrant history. Throughout the years, this quiet community has built an impressive art and culture scene. The Wenatchee Museum and Cultural Center allows residents to take a deep-dive into the city's history, while art galleries throughout the city allow art aficionados to appreciate the many unique works of local artisans. The Musical Theatre of Wenatchee puts on show-stopping musicals, comedies, and melodramas throughout the year. If you love art, music, and performing arts, you'll fall in love with Wenatchee.
Entrepreneurial Opportunities – Wenatchee has an active Chamber of Commerce that provides entrepreneurs with the resources and networks they need to start their own businesses. The Small Business Development Center, located on Olds Station Road, provides confidential discussions and resources to help small business owners make informed business decisions. There are multiple co-working spaces throughout the city, and the community has a small-town feel that encourages the support of local businesses.
Health, Beauty, and Fitness – Wenatchee takes health and self-care seriously, which is why you'll find a nice variety of health, beauty, and fitness options to ensure that you and your fellow residents are always living your best lives. From day spas and hot yoga centers to high-end salons, rock-climbing gyms, and the local Wenatchee Racquet and Tennis Club, you'll never run out of ways to stay fit and healthy.
Low Crime Rates – Families love Wenatchee because they feel secure living, working, and playing here. According to The City of Wenatchee, the overall crime rate in Wenatchee is 5% lower than the national average, which means it's safer than nearly half of the cities in the United States.
Diverse Choice of Homes – Wenatchee has beautiful residences for every lifestyle and every budget. From cozy studios to 1 to 3-bedroom apartments to single-family homes, Wenatchee caters to families and busy professionals. There are luxury, resort-style apartment communities available that offer stunning mountain views, top-of-the-line amenities, and a modern place to call home. Regardless of what type of home you're looking for, you'll find it in Wenatchee.
Amazing Restaurants – Foodies live Wenatchee because it offers a perfect blend of popular chain restaurants and locally-owned eateries that you won't find anywhere else. Wild Huckleberry is a top choice for breakfast and pancakes the size of your head, and Visconti's Italian Restaurant is a popular date-night option. If you're looking for a hidden gems with homemade recipes, try La Fuente Mexican. Want something a little faster and familiar? Swing by the local Olive Garden or Red Robin. If you want to eat outside and enjoy Wentachee's beautiful weather in the spring, summer and fall, opt for restaurants with outdoor dining options like Rail Station & Ale House, Mela Coffee Roasting Co., and South-Pybus
Upscale Shopping – One of the most significant landmarks in Wenatchee is the Pybus Public Market. This unique riverfront venue provides a place for locals to enjoy dinner on the water and shop from local vendors. Pybus Public Market feels like a combination of a traditional flea market, local farmer's market, and modern shopping venue. Other popular shopping options include The Wenatchee Valley Mall with two levels of upscale retail stores, as well as Walmart and Target, both located in central Wenatchee.

What's your favorite thing about living in Wenatchee? Let us know in the comments section below or at #LifeatWeidner.

If you're looking for a great apartment in Wenatchee with wonderful amenities, a friendly and responsive onsite management team and ideal location in a medium-size community that feels like a small town, contact us today at 600 Riverside Apartment Homes. We're here to schedule your personal tour at your convenience and help you find the perfect place to call home.