4

Simple Ways to Achieve the Perfect Work From Home Space
It's no secret that since the global pandemic, more people have transitioned to a work-from-home lifestyle than ever before.
Whether they are starting their own business, or have adjusted to remote work, single-family homes and apartment communities have replaced the traditional office model for many working professionals. However, while working from home can be convenient and enticing, it does come with its own set of challenges. One of the biggest struggles people have when working from home is managing their distractions. It can be easy to get caught up in household chores, TV shows, phone calls, and interruptions from neighbors.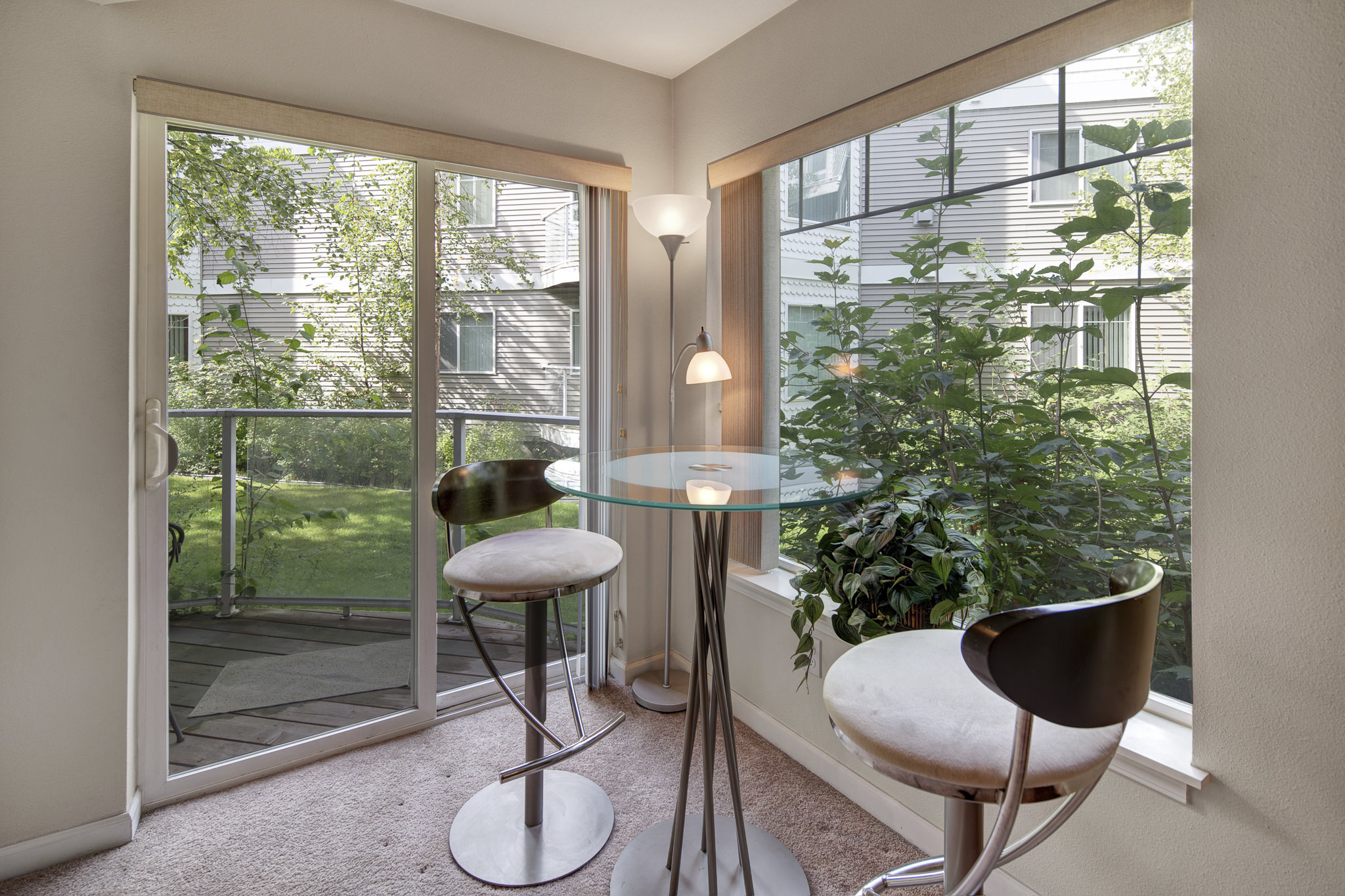 If you're working from home, one of the best things you can do is create a home office that fosters creativity, productivity, and efficiency. Even if you live in an apartment, you can make small changes to help you be more successful while working from home. Here are four simple ways to achieve the perfect home office:
1. Location, Location, Location
The first thing to consider when creating a home office in your apartment is where to put it. Whether you're working with a cozy studio floor plan or a sprawling two-bedroom apartment, the location of your office will significantly impact your productivity. If you're limited on space, consider setting up a home office in your bedroom. This leaves your living areas more open and allows you to distinguish your workspace from your casual living space.
Once you've decided on your home office location, make sure it features what you need to succeed. For instance, you want a place that has access to several outlets so that you can charge your computer, phone, and other devices. You'll also want to be away from home areas that cause a lot of noise, such as the dishwasher or laundry machines. Maybe your apartment has a little alcove or a nook that doesn't have a purpose yet. Could you set up your workstation in that area? When choosing a location for your home office, it's essential to balance convenience, comfort, and creativity.
One of the perks of working from home is that you have more options for your workspace. If you feel a little cooped up, consider visiting your apartment's business center and working there for an afternoon. Or head down to the common areas or the clubhouse to work in a new environment. Changing your location can help boost creativity and help with mental blocks.

2. Focus On Multi-Purpose Furniture
Multi-purpose furniture is your best friend when it comes to styling your apartment home. Utilizing versatile pieces means not having to go out and buy a complete office desk and expensive rolling chair. Instead, use what you have to create a comfortable office space. If you're setting up your office in your bedroom, consider using your nightstand as your workstation. If you have a favorite armchair, try using it as part of your workspace. If your work requires a lot of sitting in the same position, you'll want to make sure you choose furniture that will be comfortable. You could even get creative and use a standing breakfast tray as a laptop stand! Look around your apartment and take inventory of what you currently have that could be part of your new home office.
3. Prioritize Lighting
Studies show that people are happier, more creative, and more productive when working in natural light. If possible, consider positioning your workstation near a window. If you love the view from a particular space in your apartment, try setting up your workstation there. This allows you to be situated in a place that brings you joy while also reducing the amount of artificial light you'll need to get work done. If your apartment doesn't have a lot of windows, it's still important to prioritize the light to create a functional workspace. Invest in floor lamps that allow you to adjust the brightness or desk lamps that don't emit a high-voltage light. If possible, avoid working under the direct overhead light. Remember that the location of your lighting is important as well. If your primary light source is behind you, chances are it will cause a glare on your computer screen. If you're often on camera for video calls, try to select softer and more flattering light sources to avoid harsh lighting that can reflect poorly over video.

4. Limit Distractions
One of the biggest challenges that entrepreneurs, small business owners, and remote employees have when working from home is limiting distractions. It can be hard to shift your headspace from home mode to work mode when you're living in a space that requires both mindsets. Some of the ways that can help you stay focused while working from home include:
Set timers. Choose a certain amount of time that you want to work on a specific project. Work solely on that project for the allotted amount of time and don't get sidetracked. Once the timer is off, feel free to get up, walk around, work on something else, or do a household chore. Don't forget to set timers for your breaks as well to prevent burnout.

Dress for success. It can be easy to associate working from home with working in your pajamas, but that can set the tone for an unproductive workday. The act of taking a shower, getting ready, and getting dressed helps shift your mind into work mode. This is especially important if you see clients throughout the day or participate in virtual meetings.

Set boundaries. If you share an apartment with someone, let them know about your goals, expectations, and work time needs. If you have a roommate, let them know that just because you're home doesn't mean you're available to chat. Set specific hours so that people know when you are working and when you are free. You may need to have this conversation with neighbors as well. If your neighbors constantly come over to hang out because they see that you're at home, it's important to set boundaries and let them know that you need uninterrupted work time and can connect after the workday.

Keep the TV off. Even if you think you need the TV for background noise, more often than not, it can turn into a distraction. Try playing light music for some pleasant background noise instead.

Work From Home In Anchorage, AK
Working from home comes with its own unique set of advantages and challenges. While it allows for more freedom and flexibility, it also calls for more self-control and time management. Admirals Cove Apartment Homes in Anchorage, Alaska, is home to many entrepreneurs, small business owners, and professionals working from home. These high-end apartments are close to downtown, so you'll be near the office when it's safe to return to in-person workdays. Admiral's Cove offers various floor plans that make it easy to create a home office or a creative workspace that tailors to your needs. If you're moving to Anchorage for work or school, schedule a tour of Admiral's Cove today!