Make Moving to Moses Lake, Washington, Easy and Stress-Free
Moving is at the top of many people's least-favorite-things-to-do list. Packing up your belongings, trying to find a new apartment, and living out of boxes can be extremely stressful and time-consuming. One way to make this experience a bit more pleasant is to consider renting a furnished apartment. Below, we break down the main benefits of choosing a furnished apartment to help you decide if this living style is for you!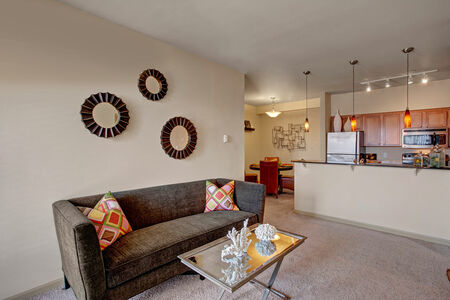 Perfect for Transient Phases of Life
We all experience periods in life when things are a bit unsettled. Whether you're moving out of your childhood home for the first time, are seeking temporary housing and can't move all your furniture, or are unexpectedly entering a new stage of life, furnished apartments can be ideal. During those uncertain times when life throws you a curveball, the last thing you want to do is make the big financial commitment of furnishing your home.

Furnished apartments provide everything you need to get settled quickly. This simplification can help you concentrate on higher priorities. No need to make furniture or appliance decisions that you may regret later; move in and have everything you require for a modern and comfortable life already set up and ready to use.
Freedom to Move Quickly
Taking advantage of furnished apartments allows you to have the freedom to move quickly, should the need or opportunity arise. Packing up just your belongings means you don't have to worry about paying a moving company or recruiting friends and family to help you lift heavy items in and out of a rental truck.

Be sure to talk with your apartment complex about leasing arrangements if you think you may need more flexibility. Breaking a lease can be costly, but some apartments may allow you to sign a shorter-term agreement.
Truly Maintenance-Free
One of the main reasons people choose to live in an apartment is to minimize the maintenance and upkeep of their homes. They prefer to leave the landscaping care and home repairs to the professionals who can be called as needed at no additional charge. Selecting a furnished apartment can extend that maintenance-free living one step further. If you run into any issues with rented furniture or appliances, a simple phone call or service request can take care of a repair or replacement.
No Design Worries
If interior decorating isn't your cup of tea, choosing a furnished apartment can largely help relieve you of that task. Most furnished apartments are beautifully and functionally decorated to make residents feel comfortable and at home. Add a few personal items, and you'll have a lovely place to relax and entertain your friends and family. Spend your time on your priorities, hobbies, and commitments instead of pondering what style of couch would match your coffee table, bookshelves, or entertainment console.
What Furnished Apartments Are Available in Moses Lake?
If you've decided to consider renting a furnished apartment, stop by The Vintage Apartment Homes in Moses Lake, Washington. Our community offers several different floor plans including, furnished homes that will provide you with all of our previously mentioned advantages. In addition, enjoy a community pool, fitness center, clubhouse, an outdoor barbecue area, and more! Our central location also puts you close to all of your daily needs, including shopping, dining, entertainment, and employment. Call our friendly staff to learn more and schedule a personal tour of our beautifully furnished homes.