Here at Weidner, we adore our studio floor plans! These chic and simple designs give our residents the freedom to craft a unique and cozy space to call home. Without extra walls separating the area, a studio can be designed to perfection, but if you don't know what you are doing, the room can feel cramped. Keep reading to discover the best ways to decorate a studio apartment.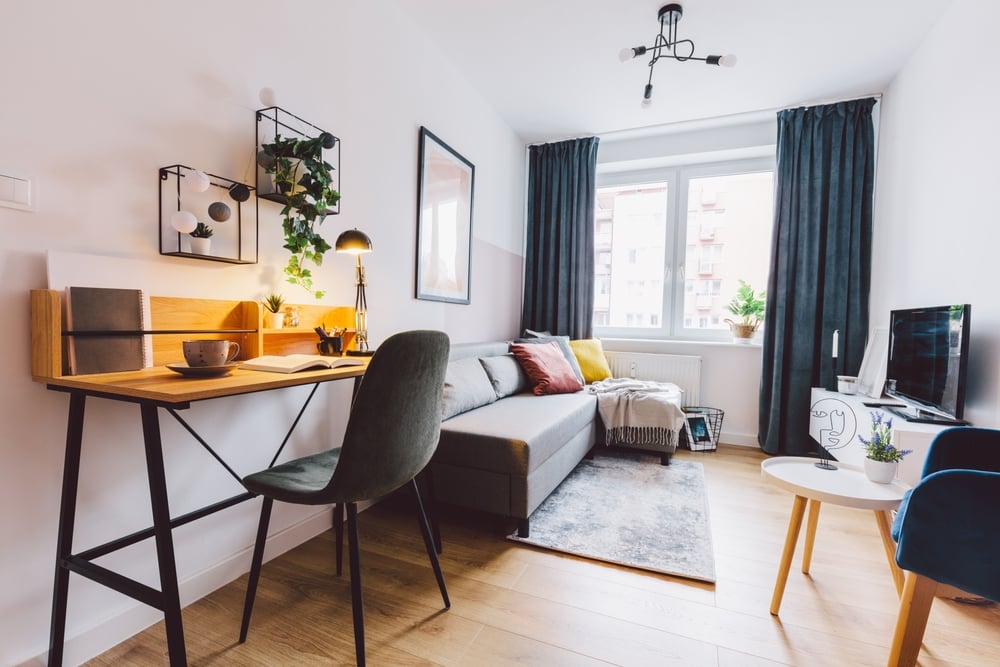 Separate the Spaces
Just because your apartment is one open space doesn't mean everything has to feel mushed together. It's always a good idea to separate the spaces to classify the pieces of your home. The most important areas to separate are the bed, living room, and workspace. You can separate them using bookshelves, room dividers, or even curtains. Once the space is divided, it will be easier for your mind to focus on what it needs to do in each area. For example, if your work space is separate from your living room, you will remove distractions and be able to focus on the task in front of you.
Focus on Multi-Functioning Furniture
Because your studio has limited space, we recommend investing in furniture with multiple uses and functions, taking up less space. For example, we love futons that offer internal storage and beds with drawers underneath. The fewer large items you have to move into your home, the more space you will have to make it your very own.

Opt for Minimalism
Studio apartments can feel overwhelming if there is too much going on. Try to find a minimalistic style that works for you! We recommend sticking to a color scheme that is soothing and inviting and keeping the wall decor and art to a consistent and neat pattern. While we all love to showcase our knick-knacks and trophies, they can significantly overwhelm the balance of the space.
Are you ready to start decorating your new studio apartment? We highly recommend separating the spaces, focusing on multi-functioning furniture, and opting for minimalism. Do you have any other ideas or suggestions? Feel free to share them with us in the comments below.