A Decorated Retired Veteran Associate Recognizes a MN Leader with a Patriotic Employer Award
Service is one of the key pillars of multifamily, and finding ways to go the extra mile, deliver on requests, and operate with a goal-oriented mindset are practices Our People perform daily. These are also common values in the U.S. Military and the Canadian Armed Forces. The similarities between the two organizations are why hundreds of active, reserve, and retired service men and women have joined the Weidner Family. We proudly support these brave and selfless associates and provide them with their required flexibility and job security while they fulfill their duties to protect our countries.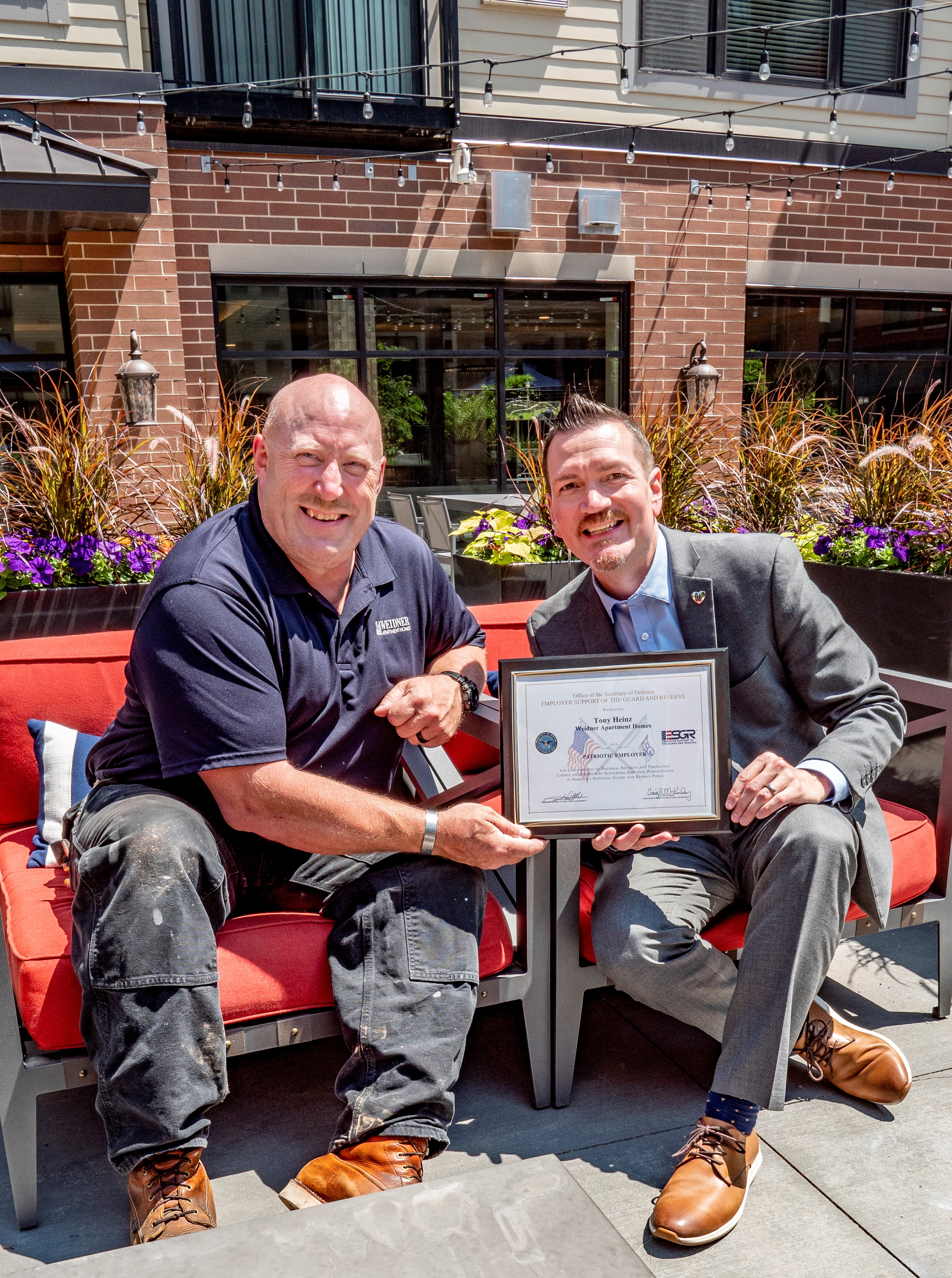 Mitch Hellkamp is our Service Manager at Gatsby Apartments in Minneapolis, MN, and is a recently retired U.S. Military veteran with 35 years of service, including four deployments; one in Bosnia Herzegovina from 2003-2004 and three in Iraq from 2006-2007, 2011-2012, and 2019-2020. Mitch has led over 6,300 soldiers in his career, and his last assignment was as Command Sergeant Major of the 34th Expeditionary Combat Aviation Brigade.
Before Weidner, Mitch worked in maintenance at a downtown hotel for over 17 years and was eager for a new challenge. Coincidentally, Tony Heinz, our Senior Area Director in MN, expressed to his barber during his haircut that he needed to hire a quality maintenance associate at our community, 222 Hennepin Apartments. His barber happened to be Mitch's neighbor and offered to give Tony's contact information to Mitch. That night, Mitch received a text from the barber with a photo of Tony's phone number. Mitch called Tony, and the two instantly connected, and Mitch was hired days later, in November 2017.
"The qualities I look for in people during the hiring process are kindness and passion. The most important part of our business is working with people, and while being courteous is important, adding passion behind your work makes it a home run. During the interview, I could tell Mitch had all those qualities in spades." Said Tony.
After a few weeks in his role, Mitch received news that he needed to deploy to Iraq for over a year. When he told Tony, Tony didn't even blink, and without hesitation, he said, "No problem, we will be here when you get back." Even before his deployment as a member of the Minnesota National Guard, Mitch needed to fulfill several military duties while still working at Weidner. He traveled for monthly drills, attended two-week-long annual trainings, and took 17 trips to meet the soldiers accompanying him on his deployment. "Tony never gave me pushback and always allowed me to take as much time off as I required. I not only felt comfortable leaving but also empowered to ask for what I needed." Said Mitch.
When Mitch left for Iraq in 2019, Tony emailed and called him regularly to check in on him, and their friendship strengthened. While Mitch was deployed, the construction of Gatsby Apartments was almost complete, and Tony had promoted him to be the community's Service Manager. However, when Mitch returned, Gatsby was still under construction. Still, Tony found him an opportunity to mentor a Service Technician who was also in the military at Daymark Uptown Apartments until Gatsby was complete.
"When you're working for Weidner, you'll never get bored. There's always an exciting challenge, and it's a team effort. Whenever I get a call, I answer, ready to help, and I know my team would do the same for me. It's similar to the camaraderie I experienced in the military. We're all working towards the same goal that's bigger than ourselves by striving to improve our residents' lives." Said Mitch.
Later that year, Mitch nominated Tony for the Patriotic Employer Award. The honor is bestowed to a handful of U.S. employers every year to recognize them for creating a supportive workplace for military personnel. "I chose to nominate Tony because of everything he's done for me and his personal care for my well-being. My military service has never negatively impacted my Weidner career, and since I've worked for him, I've always felt supported. My Weidner team gave me another reason to stay motivated during my deployment because I knew they were rooting for me, and I would return to a secure job." Said Mitch. In late 2019, Mitch and his Brigade Commander, Colonel Fix, dressed in uniform to surprise Tony at his office with his Patriotic Employer Award.
"Being recognized for the award is important because it aligns with our team-based values that we're always looking to help and support each other. I needed to support Mitch so he could support the thousands of soldiers he led. Whenever I call Mitch, he answers, "Mitch, at your service." And I know he means it. Mitch is a hard worker, which directly correlates to his service and dedication to our country. Every time we need Mitch to step in, he does. He's solid, reliable, and a helper at his core. I can't think of a time when he hasn't answered a request with, "no problem, I've got it." Mitch has become our automatic go-to guy because he's calm under pressure and handles things with a pleasant and relaxed demeanor, which comes from his leadership during his service." Said Tony.
Mitch ended his 35-year career with the U.S. Military on June 30th, 2022, and invited Tony to his retirement ceremony at Camp Ripley in Little Falls, MN, followed by a gathering of close family and friends.
Mitch, thank you for your long-term service by protecting our world to keep us safe. Tony, we appreciate your flexibility and responsive leadership in allowing Mitch to serve our country without limitation.